Blog Posts
Why a GPS Tracking Service Is a Key Part of Your Fleet Operations Ecosystem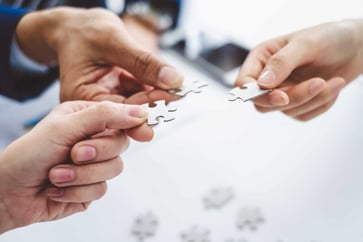 Even if you're using other fleet management apps!
"We already have ServiceTitan .."
At ClearPathGPS, we are always thrilled to hear that field service businesses are taking advantage of the great tools out there to streamline their operations, enhance their customer service, and boost their bottom line.
Fleet operations solutions like ServiceTitan, Fleetio, and Route4Me can deliver enormous value to service businesses like yours. But you can add even more value to any of these apps—or many others—by adding a GPS service like the one from ClearPathGPS. That's why all of the companies we listed above eagerly tell their own customers that they seamlessly integrate with our GPS fleet tracking system.
The Benefits of Integrating GPS Tracking Into Your Operations Apps
You might be thinking: Okay, so we can integrate GPS tracking into our existing fleet management software. But why would we want to?
Think of GPS tracking as filling in the data and business-intelligence gaps from your other fleet management apps. And consider the ways you could improve your company's operations with real-time, minute-by-minute data on what's happening out in the field with your fleet, your equipment and other assets, and your drivers.
Here are just a few examples of how you can use the right GPS vehicle tracking service to make your company more successful:
Can ClearPathGPS help your operations achieve better results? Schedule a 1x1 demo today!
Track how long your field techs are onsite at every job—accurate to the minute—and use that data to automatically generate

accurate virtual timecards

… and even to

use as evidence to settle customer billing disputes

.

Monitor how your drivers are handling your company's vehicles, including whether they speed, if brake or accelerate too aggressively, and even if they use your vehicles after-hours—so you can correct problem driver behavior.

Receive updates on your fleet's mileage and alerts of fault codes on any of your vehicles' onboard systems—so you can ensure you

schedule mileage-based maintenance appointments

and

react quickly to problems detected in your vehicles

.
And here's how you can incorporate this valuable data into your existing fleet operations apps—including the examples below with a few of our partners, or other apps via the ClearPathGPS open API—to gain even more value from them:
ServiceTitan
Integrating ClearPathGPS to your ServiceTitan app can fill in the gaps on what's happening with your techs, vehicles, and assets—to help get more from your ServiceTitan account. Learn more.
Fleetio
By connecting your Fleetio account with the real-time data from ClearPathGPS, you can automate time-consuming odometer updates and receive alerts on fault codes with any vehicle in your fleet. Learn more.
Route4Me
With ClearPathGPS data integrated into your Route4Me app, your operations team will have more actionable data to help optimize routes and improve your fleet's efficiency and profitability. Learn more.
But Won't Adding GPS Make Our Fleet Operations More Expensive?
That's an easy one to answer: No
The money your business can save by implementing the right GPS tracking service, and the additional revenue it can help you bring in, will pay for the nominal cost of the service itself many times over.
Schuyler Bell, the operations manager for Trim All Lawn Service in Florida, explains that ClearPathGPS saved his company about $170,000 in overtime costs because he was able to analyze the vehicle data on all of the company's crews and learn exactly how long each job actually takes. As Schuyler puts it:
"The money ClearPathGPS helped us save in just the first year or so paid for our ClearPathGPS service for the next 20 years."
Blake Merrell, who heads the Florida division of the biosolids-management company Merrell Brothers, points out that by integrating ClearPathGPS with the business's Fleetio account, they're increasing the ROI on their vehicles.
"I'll get a message from ClearPathGPS saying that a truck is due for an oil change next week," he explains. "Then, thanks to the Fleetio integration with ClearPathGPS, we'll set an appointment for the service, and the system will automatically send that truck's driver a text saying he's scheduled for an oil change on this day next week, and here's the address." As Blake points sums it up:
"That's helping us get a better return on these assets."
What if We Aren't Already Using Other Fleet Operations Software?
It's worth pointing out that you don't need to integrate ClearPathGPS into other fleet operations software to get all of the value from the real-time data our app offers.
In fact, many of the thousands of businesses we serve across the country use ClearPathGPS as a standalone solution—accessing our app on their desktops, laptops, and mobile phones to monitor their fleets' whereabouts at all times.
ClearPathGPS can add real horsepower to your existing operations software—both through our direct integrations with major fleet management apps, and through custom integrations you can build with our open API. But even if you're not using other fleet management solutions, our GPS fleet tracking system is a valuable addition to your company's operations toolbelt.
Don't just take it from us. Make sure to check out some of our highly rated reviews from satisfied customers on Capterra or TrustPilot!
Ready to integrate GPS tracking into your fleet management ecosystem? Contact ClearPathGPS today.
---
At ClearPathGPS we help field service businesses—including landscaping companies, plumbers, roofers, HVAC businesses, and more—improve their operations and improve their bottom lines. To learn more about how businesses benefit from the ClearPathGPS fleet tracking solutions, contact us today!