Blog Posts
ClearPathGPS Customer Featured in Landscape Management Innovation and Technology Guide
GroundMasters Shares Key Results Being Achieved with ClearPathGPS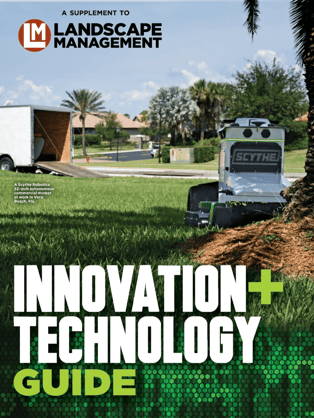 ClearPathGPS landscaping customer: GroundMasters was recently featured in an issue of Landscape Management Magazine. The article shares how this leading Landscaping and Snow Management service company is utilizing GPS Fleet Tracking technology to improve their operations and save costs for their business.
GroundMasters/Snow Management Services in Denver has been using ClearPathGPS for four years now to keep tabs on its fleet of vehicles for its commercial snow and ice business. GroundMasters also offers commercial landscape maintenance and irrigation services.
Bennett Polley, operations manager with GroundMasters / Snow Management Services, says ClearPathGPS provides fleet management information, including where employees and vehicles are at all times. Polley says fleet tracking ensures crews use the most efficient driving routes, eliminating excessive idling, rough driving, or speeding. "When we first started monitoring the idling, I would get reports constantly, but now (crews) know that it's being monitored and that they shouldn't do it", he says.
"The cost-savings with ClearPathGPS translated to other things, whether it's raises, new trucks, or just company parties.

Bennett Polley

Operations Manager
All that efficiency results in less wear and tear on vehicles, as well as better gas mileage for the fleet, Polley says. "It's always hard to pinpoint why some of those costs go up because they happen maybe a year to three years down the line," Polley says. "It might be a transmission that goes out a little sooner than it should have or brakes needing replaced a little sooner."
Polley gets notifications whenever a truck leaves the yard. He also gets daily reports with recaps of the truck deployed and the stops made. Those notifications come in handy during the hustle and bustle of a busy snow season.
When a client calls in to get a service update, Polley uses ClearPathGPS to see where the plows are on the route. "If it's a bigger site, and the client is wondering why the north end hasn't been plowed yet, I can pull up the GPS and say, 'well, they're there on the east side, so they'll be over there soon,'" he says.
Having the ability to provide instant tracking helps him deploy crews for additional service calls, too. Polley noticed his payroll is more accurate since tracking departures and arrivals of trucks and the business then passes those savings on to other parts of the business. "Those cost-savings translated to other things, whether it's raises, new trucks, or just company parties," he says.
"There's a tangible benefit for the employees," Polley says business owners need to understand that the reports generated by GPS tracking will show areas of your business to improve upon from an efficiency standpoint. "It's no different than how you would look at your P&L statement and make sure everything's dialed in," he says. "Look at the tracker's daily record the same way because that's going to directly affect the P&L statement."
Huge thanks to Bennett for sharing how ClearPathGPS is helping GroundMasters run a smoother operation. Interested in learning more? Read our GroundMasters customer case study or contact us today!
---
At ClearPathGPS, we are focused on helping our customers improve their operations and bottomline. Our top-rated GPS fleet tracking solutions provide real-time data insights and tools needed to more effectively manage the vehicles, people, and assets businesses send into the field everyday. Can ClearPathGPS help your operations get better results? Let's find out – request a demo or contact us today.