Blog Posts
ClearPathGPS Employee Spotlight: Danielle Sideris, Operations Specialist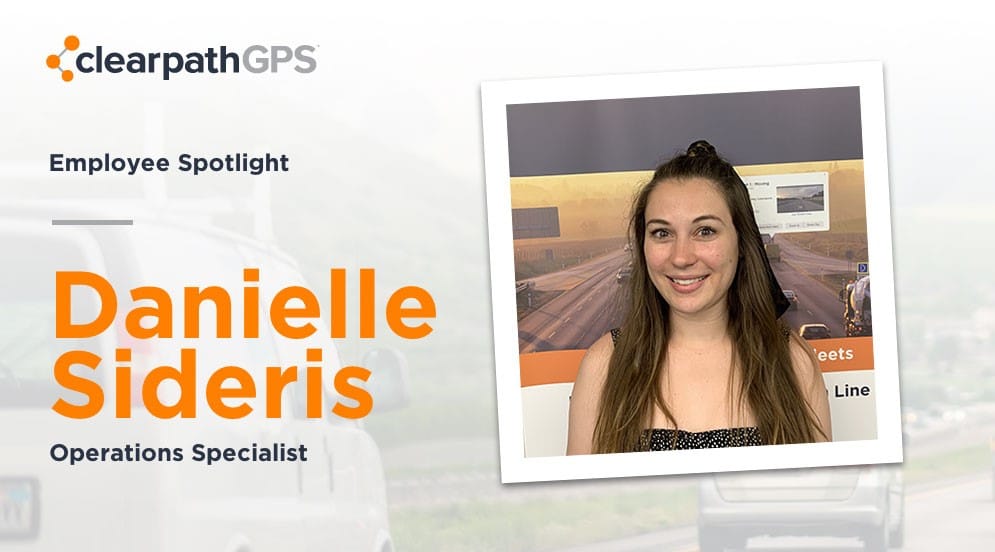 When it comes to going the extra mile for ClearPathGPS Fleet Tracking customers, our support group has set the bar quite high for our industry! For the past five years, Danielle Sideris has been an instrumental part of the success of this team. We invite you to learn more about Danielle and her insights on the evolution of ClearPathGPS and its customers!
To be successful in your role it requires both an aptitude for all things technical, and great customer service, both of which you excel at! Where did you get your experience?
Prior to ClearPathGPS, I worked at my family's small desktop support business, thus my entry into the world of technology and customer support. As with any small business, at my parent's company, I wore many hats and quickly learned how to problem solve, and grow my knowledge on the technical side of the house to ensure I could take care of our customers.
When you joined ClearPathGPS, you pretty much helped jumpstart our support team. What was it like back then, and what is it like now?
When I first started it was primarily me and our co-founder, Chris Fowler, who were answering customer support calls and tickets. I was also processing orders, programming our trackers, printing out shipping labels, etc. You name it, I was helping!
Now, along with more employees and bigger office space (which is still in the heart of downtown Santa Barbara!), our platform functionality continues to grow as well. In terms of our support team, it also has evolved over the years.
However, when you think of customer support, you probably think of a large room filled with desks and many folks constantly on the phone. This is not the case at ClearPathGPS, our team is small relative to the size of our customer base and other similar-size technology companies. Yet, our response times are very quick, and our customer reviews are the highest in the industry!
So what's different about the ClearpathGPS approach that enables a smaller yet still highly successful support team?
I attribute this to our intuitive system that our customers find easy to use. Plus, our focus on deploying only best-in-class, reliable hardware and our mantra in putting customers first. We don't have a need for standard scripts, nor Tier 2 support, as we are empowered to problem solve and pull in the right resources to quickly take care of our customers.
We have also focused over the years on growing a robust, customer support portal and have added a Customer Success team that provides great guidance on getting the most out of our system.
What part of your role do you like the most?
Our system and culture allow me to help and be a part of many facets of our operations – from responding to support calls to managing hardware, inventory, and digging into our technology.
Though my favorite part is definitely interacting with our customers. We have the power and responsibility of setting the tone about how our customers feel about our company and protecting our brand as one of the best, customer-focused businesses in our industry. It's super rewarding every time I hear from a customer "Wow, I'm so surprised at how quick and easy this call was, as I was really dreading having to call customer support."
What about our customers, what have you seen change over the years?
One of the largest changes I've seen is how our customers use our ClearPathGPS tracking data to help their operations. In the earlier days, our customers were focused on using our system to primarily track employee locations throughout the day, and make sure they weren't taking too long of breaks, were at job sites vs. say the beach.
Now, we mostly assist customers with tapping into our GPS data tracking insights to help their businesses save money, cut costs, provide better customer service, and so forth. We also have customers pulling our GPS tracking data into other systems, such as Route-4-Me and Service Titan, and business intelligence tools, in order to help their operations get better results and track trends. Data truly has become king, and we're happy to be able to provide it!
Do you have any particular customer stories that stand out?
So many of them, but one that has stuck with me was a customer who had just installed our GPS trackers and had a truck and trailer stolen shortly thereafter. They were able to use our platform to recover their stolen items fairly quickly. It really hit home how invaluable our service was, and on top of that, our customer was just about to get married, and he told us we practically saved his wedding! Both in the stress of potentially having to deal with the theft and the cost, it would have been to his business.
Speaking of getting married, your wedding took place just as the COVID-19 pandemic was kicking in?
Yes, though we were very fortunate to still be able to have our wedding before everything shut down, and are incredibly thankful for that. Plus, with both of us working from home, there was a bit of a silver lining given we both got to be together so much during our first year of marriage!
Thank you Danielle for sharing your insights about the support team, and your continuous contribution to ClearPathGPS and its customers!
---
At ClearPathGPS, we are focused on helping our customers improve their operations and bottomline. Our top-rated GPS fleet tracking solutions provide real-time data insights and tools needed to more effectively manage the vehicles, people, and assets businesses send into the field everyday. Can ClearPathGPS help your operations get better results? Let's find out – request a demo or contact us today!