Blog Posts
ClearPathGPS Employee Spotlight: John Towne, Senior Account Executive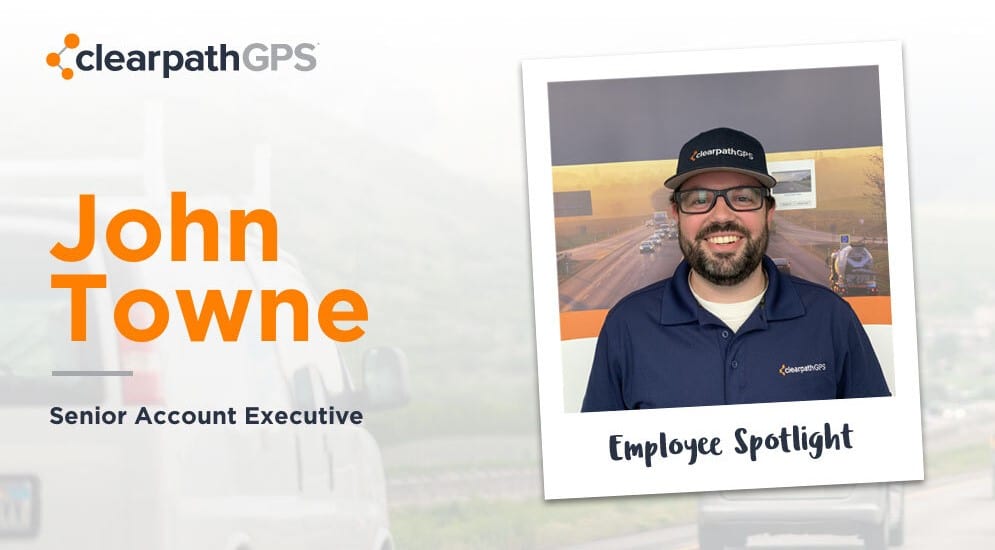 We are delighted to share a bit about John Towne (or JT as we call him) and how his contributions help make a big impact every day here at ClearPathGPS! JT brings in-depth knowledge and a collaborative, can-do attitude to his role which is highly contagious! JT is also very well-known for his trucker hat collection (30+ hats and counting), and especially likes the hats he receives from customers!
You brought some great experience to your role at ClearPathGPS, share with us what you were doing prior, and what drew you to ClearPathGPS?
My interest in fleet management began when I was running a local branch for Enterprise Truck Rentals where I was focused on developing and managing B2B partnerships. The internal system I was using to help manage a fleet of 400 trucks opened my eyes to all that could be accomplished with live fleet tracking.
It wasn't until I came over to ClearPathGPS that I truly saw the impact a telematics system could have. I was excited to join the team and extend my knowledge, and share how the right system truly can make a difference in managing fleets.
The GPS fleet tracking industry has grown quite a bit and continues to evolve. What are some of the key changes you've seen when it comes to this market?
The biggest thing I've seen is the reliance on technology. Before it was a 'maybe if it makes sense for us.' Now the value has not only been proven, it's being encouraged and many cases mandated in instances such as the DOT Electronic Logging Device rule. Insurance providers are also 'encouraging' or in some cases requiring GPS tracking to help mitigate risks and protect their insurers against claims.
You work with a lot of ClearPathGPS customers and are great at building long-term relationships. Recently you discovered some 'interesting' videos from one of ClearPathGPS customers, why don't you share with us?
Yep, we have lots of great customers and really enjoy working with them. Regarding the videos, I happened to do a Google search on our customer Royalty Exotic as I was managing a recent order. Top of the results? Their YouTube channel with millions of views, full of videos showing them recovering stolen assets — in their case, their expensive cars they rent out! — using our GPS fleet tracking platform and mobile app.
Coming from the car rental side of the business, I really think they do a great job at putting a positive spin on the unpleasant aspects of their business. And of course, everytime they make reference to their GPS fleet tracking system it puts a smile on my face. Glad we're able to help them recover their valuable cars quickly. Not having that capability would have a huge negative financial impact on their business.
Royalty Exotic videos are quite engaging.. and a great example of how our telematics system is able to help our customers! Beyond our technology, what do you like the most about ClearPathGPS? And what is your favorite part of your role?
The flexibility we offer to customers, and the focus on their success. We work together to help customers with their unique challenges. As someone that doesn't like to take no for an answer, we never say no, we always figure it out!
Regarding my role, I definitely love the social aspect. I really enjoy talking to businesses across the country. I'm a big sports fan (Go Dodgers!) and it's always great to connect on many fronts with business owners and operations managers, not just business. This social aspect has always been part of my work-life, though during the pandemic has become even more important and relevant.
We're continuing to grow our team at ClearPathGPS, what advice would you give to prospective employees and recent new hires?
Be a sponge. Take in as much as you can, reach out to every department, get their perspectives on their roles and how each department is interlinked. Hang out with support, you'll learn quickly a lot about not only our platform but the overall company culture and focus on helping customers.
Beyond a lover of 'trucker' hats, what is something your team wouldn't know about you?
First of all, I have a great head of hair, I'm not hiding anything with my hats! Something my team doesn't know? I play guitar and actually can play most instruments by ear. I'm thinking of adding some of my music to my work videos, so I'm hoping to share with coworkers and customers alike!
Lastly, we have to say love seeing your baby gal make cameo appearances now and then on our internal zoom meetings! Think she's ready for some CPGPS baby gear?
I know one day she's going to start piping in and talking over these meetings. Yep, may have to get her a special ClearPathGPS trucker hat made for toddlers, though even better would be a ClearPathGPS skateboard as she's already using mine!
---
At ClearPathGPS, we are focused on helping our customers improve their operations and bottomline. Our top-rated GPS fleet tracking solutions provide real-time data insights and tools needed to more effectively manage the vehicles, people, and assets businesses send into the field everyday. Can ClearPathGPS help your operations get better results? Let's find out – request a demo or contact us today!