Blog Posts
Field and Office Technology
ClearpathGPS Featured in Cleaner Magazine Article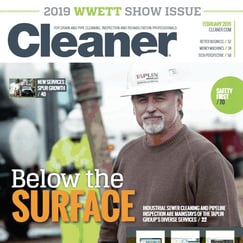 In this customer case study spotlight on Cleaner Magazine, Mr. Rooter Plumbing of Sherman Oaks, CA shares how ClearPathGPS helped his operations improve their business.
Cloud-based system speeds up paperwork
Problem:
As part of increasing overall company efficiency, Mr. Rooter Plumbing of Sherman Oaks, California, sought an efficient and cost-effective solution to monitor its fleet's vehicles. "Being based in the LA area meant daily traffic and road maintenance on the drivers' routes. We wanted to be able to assist them in finding the most drivable routes and also be able to confirm that our staff is where they are supposed to be," says Bobby Behzadi, company president.
Solution:
After detailed research, Mr. Rooter decided to install a GPS tracking solution from ClearPathGPS.
Results:
The tracking installation has increased the company's efficiency. "Now our drivers have full accountability of their driving habits," Behzadi says.
"We can ensure that not only are they driving the most drivable routes to their projects, but we can also make sure they are doing it as safely as possible. It secures their own safety, as well as our clients' and their neighbors' safety."
The company can now track where its vehicles are, how many miles per day are driven, and at the same time have proof that the technicians are servicing the customers in the time frame they are meant to. As a side benefit, one of the company's trucks recently got a parking ticket for a commercial vehicle being parked in excess of three hours.
Thanks to ClearPathGPS, Mr. Rooter could show the city that the ticket was issued after being parked for just six minutes and get it overturned.