Blog Posts
Simplifying an Extremely Complicated Fleet Management Operation with GPS Fleet Tracking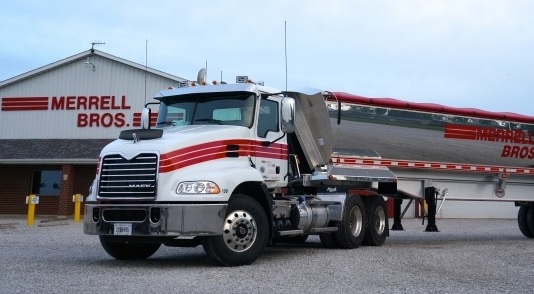 "GPS asset tracking can be purchased from numerous providers, but I haven't found one with the X-factor that ClearpathGPS offers. They are attentive, organized, excellent service providers that really add value to their data and tracking service. The customer service has been excellent for the past 3 years and continues to be, with each interaction.

Blake Merrell

Florida Division Manager
About Merrell Bros.
If you think your company has difficulty with fleet management, you should see what the team at Merrell Bros. has to juggle every day. The company specializes in processing, recycling, transporting, and disposing of biosolids for cities, agricultural businesses, and industrial facilities across the country. But that's not even the half of what makes the Merrell Bros. fleet management operation so tricky. They've also got a few unique challenges:
Many of the company's trucks and trailers have to travel to specific areas within citrus groves and large farms—which often have no road signs or street addresses and don't show any detail on Google Maps.
Merrell Bros. serves many of Florida's city governments and other customers all over the state—and asset tracking across such a vast territory is extremely difficult.
The company's fleet includes not only trucks but also more than 150 trailers, roll-off boxes, and other transportation units—and these assets also need to be tracked.
"If we didn't have ClearPathGPS tracking our assets, we would definitely lose trailers," says Blake Merrell, who heads Merrell Bros.' Florida fleet management operations, the company's largest division. But making it easy for Blake's team to keep tabs on the company's assets is just one of many benefits Merrell Bros. is enjoying thanks to ClearPathGPS. Here are some other reasons Blake is thrilled they decided to roll out our service.
The many benefits ClearPathGPS is delivering:
1. "It saves us so much time and back-and-forth communication."
"In South Florida, the groves are huge," Blake explains, "and getting our drivers to the right spot used to mean one of our employees had to talk a driver step by step through a grove, saying things like, 'Drive passed three ditches, then turn right, and you'll see a tree stump. Go left…'"
"But now we've set up stationary, solar-powered GPS trackers at these sites, so our drivers can just pull up the app and head straight there—without needing any guidance from us. That has saved us so many hours of our team's time."
2. "It's helping us to better maintain our vehicles and even our trailers."
"Another advantage of these trackers is that they help us keep track of which vehicles are due for maintenance," Blake says. "I'll get a message from ClearPathGPS saying that a truck is due for an oil change next week. Then, thanks to the Fleetio integration with ClearPathGPS, we'll set an appointment for the service, and the fleet management system will automatically send that truck's driver a text saying he's scheduled for an oil change on this day next week, and here's the address."
"This even works for our trailers and other storage and transportation units. Those assets need maintenance, too, and so ClearPathGPS helps us track miles, so we know when it's time to check a trailer for things like the health of their tires, airlines, lights, that sort of thing. That's helping us get a better return on these assets."
3. "It even helps us quickly repair our own vehicles."
Finally, Blake also uses the ClearPathGPS system to direct Merrell Bros.' mechanics to vehicles suffering some sort of trouble, so they can get those drivers back on the road quickly.
"We have our own mobile mechanics," Blake explains. "But in the past, if a driver called us to say he was having trouble with his truck, I'd have figure out which mechanic was closest—and that was tricky all by itself because we're so spread out—and then guide him to the truck.
"But thanks to ClearPathGPS and the Fleetio integration, when that driver calls me I can see through the fleet management app where he is and which truck he's talking about. So I just open an issue in Fleetio, which alerts the appropriate mobile mechanic, and I step aside and let the mechanic and driver find each other and get the truck working again. I can't tell you how much more quickly and cost-effectively this is letting us solve our vehicle issues!"
4. And last, but not least: "ClearPathGPS customer service is top tier."
"GPS asset tracking can be purchased from numerous providers, but I haven't found one with the X-factor that ClearPathGPS offers. I have tried other options, the tracking is similar, but ClearPathGPS as a company is different. They are attentive, organized, excellent service providers that really add value to their data and tracking service. The customer service has been excellent for the past 3 years and continues to be, with each interaction. Data issues are reported and fixed quickly, asset devices arrive quickly, are made with quality materials and are easily installed (I have personally installed nearly 200 of them!).
The whole experience is seamless and a pleasure month after month. I keep adding devices and the service keeps being as reliable and robust as the day I started with ClearPathGPS. Their technology is among the best options in the industry, and their people are outpacing even their technology." – As quoted on Trustpilot! (Thanks Blake!)
---
At ClearPathGPS we help field service businesses—including landscaping companies, plumbers, roofers, HVAC businesses, and more—improve their operations and improve their bottom lines. To learn more about how businesses like Merrell Brothers benefit from the ClearPathGPS fleet tracking solutions, contact us today!