Blog Posts
ClearPathGPS Named Top Fleet Management Service Performer
Featured Customers Fall 2018 Report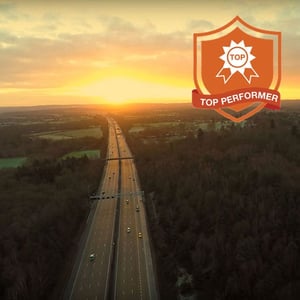 ClearPathGPS has been named a Top Performer in the GPS Fleet Management Services category in an independent Fall 2018 Customer Success Report published by FeaturedCustomers.
FeaturedCustomers is the leading customer success content marketing platform for B2B business software & services helping potential B2B buyers make informed purchasing decisions through vendor validated customer success content such as customer testimonials, success stories, case studies, and customer videos.
FeaturedCustomers evaluated all the potential GPS Fleet Management Services companies on its platform for possible inclusion in the report. Only 40 companies met the criteria needed to be included.
About the GPS Fleet Management Services Report
The Customer Success Report is based on the curation of authenticated case studies, testimonials, and reviews from across the web, telling a complete story of vendors in the GPS Fleet Management Services space through real customer experiences.
The Top Performer designation is awarded to vendors with significant market presence and enough customer success content to validate their vision.
As detailed in the report, "Highly rated by customers, ClearPathGPS consistently publishes high quality vendor produced customer success content and curates quality customer reviews from multiple third-party sites."
Find out why we continue to lead the industry in GPS fleet management when it comes to customer service and support. We think it might have something to do with never letting our customers go to voicemail! 🙂