Blog Posts
The Best Fleet Management Software Will Have Superior Customer Reviews. Here's Why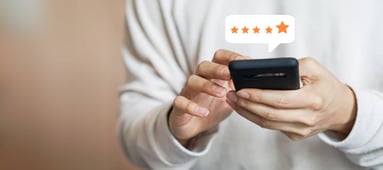 If you're in the business of providing services to your community—plumbing, construction, landscaping, etc.—you know how important customer reviews are to your company. Next to referrals, in fact, reviews are probably one of your most reliable sources of new business.
And because you know firsthand how much influence a customer review can have on your potential customers—either as a "seal of approval" or a "buyer beware"—you probably wouldn't pay for a service for your own business without first listening to what other customers say about that company. Are their customers satisfied with the product itself? Is the support any good? Does the business offer flexible pricing options? And perhaps most important: is this a company we'd be happy doing business with?
As a GPS fleet tracking service provider, we at ClearPathGPS are just as mindful of our customer reviews. And because they put us well into "seal of approval" territory, we're eager for businesses like yours, looking for a vehicle tracking solution, to check them out.
TrustPilot.com: Massive, Credible, and Loaded with Reviews on GPS Tracking Companies
Among the largest platforms in the world for customer reviews on B2B technology products, Trustpilot has more than 120 million written reviews, covering more than half a million different solutions and websites.
In fact, someone publishes a new product or service review on Trustpilot every second of every day—totaling 4 million new reviews per month.
Bigger Company Isn't Always Better: A Real-World Example
Just as a low star rating from viewers can signal that the movie you just found on Amazon Prime might not be worth your time, sites like Trustpilot are a great way to quickly screen the GPS tracking companies on your list. Low star ratings can alert you that the provider needs a more thorough vetting—or, maybe, to be crossed off your list altogether.
Here's one example in the GPS tracking industry, a large company you've certainly heard of and might even assume you can trust because of their familiar name.
We won't call them out by name because, well, that would be rude. We'll just show you the top of their Trustpilot page, where you can see who they are, how many stars they've earned from customers (spoiler alert: it's 2.2 out of 5), and what the most recent reviews say about doing business with them.
Don't say we didn't warn you.
We recently signed up a new customer for our fleet tracking services. This company became so frustrated with their GPS provider—not the company above; a different provider with equally poor customer reviews—that they went searching through websites like Trustpilot for tracking companies with great reviews.
As this new customer told us: lesson learned. They should have taken the time to read customer reviews of the various GPS providers before signing up with one.
Speaking of which…
ClearPathGPS: A Vehicle Tracking Partner You Can Trust—As Nearly 200 Other Businesses Will Tell You Below
We encourage you to do your own research on Trustpilot (as well as other review sites like Capterra and Software Advice). But to show you another snapshot of what you'll find—this time, at the other end of the quality spectrum—here's the ClearPathGPS Trustpilot page:
When you visit that page, you'll see that our overall star rating (spoiler alert: it's 4.9 out of 5) qualifies ClearPathGPS as "Excellent" on the Trustpilot ranking system, a designation few businesses in any category earn.
Those two descriptions give you an idea of how varied the details are in ClearPath's customer reviews. Other than the one thing they almost all have in common—5 stars out of 5 stars—our customers share many differ reasons on Trustpilot for why they're delighted to work with ClearPath.
Some praise the functionality and flexibility of our solution.

Some cheer the ClearPath app's user-friendliness (even for their tech-phobic staff).

Some thank us for helping to customize just the right GPS tracking solution for them.

Some highlight our super-friendly, super-helpful customer support team.

And some just can't thank us enough for having the most flexible pricing in the industry.
After you've reviewed GPS tracking companies on Trustpilot, check out our more in-depth customer success stories.
Then let's chat about how we can help you use vehicle tracking to move your business forward
---
At ClearPathGPS, we are focused on helping our customers improve their operations and bottomline. Our top-rated GPS fleet tracking solutions provide real-time data insights and tools needed to more effectively manage the vehicles, people, and assets businesses send into the field everyday. Can ClearPathGPS help your operations get better results? Let's find out – request a demo or contact us today!