Blog Posts
Your Top Plumbing Fleet Management Solutions (Updated for 2023)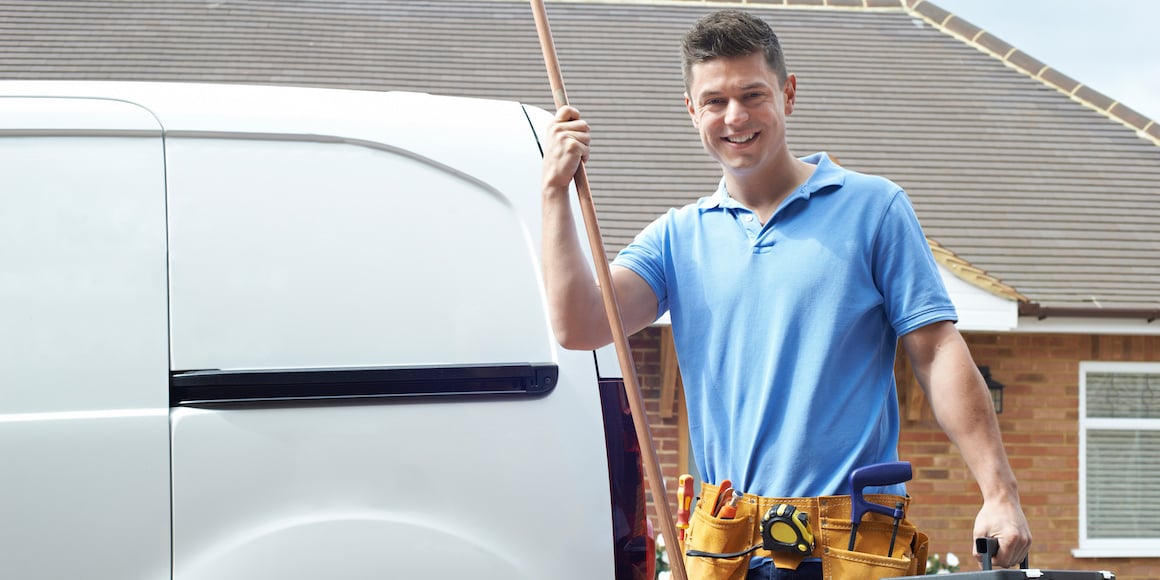 At ClearPathGPS, we know that managing plumbing business fleets of all sizes can be a handful. After all, your team's ability to get to gigs on time with all your valuable assets can make or break your business's reputation.
You already know this. You've taken steps to improve this part of your day-to-day business. Your plumbing industry fleet operations and fleet maintenance have likely cost you significant time, money, and stress, whether you're a business owner or fleet manager. There's a lot on your plate!
Good news: You don't have to tackle fleet operations solo. With today's modern plumbing industry fleet management solutions, you can find ways to reduce operational costs, drive job efficiency to increase profitability, improve driver safety and customer service, and even tackle labor shortage issues.
Here are a few of our favorite fleet management software solutions for the plumbing industry—including GPS tracking software, customer support, and real-time asset tracking—that can help you see real results when managing your fleet.
We may be biased, but we think they're among the best tools for plumbing out there—and we bet you'll agree!
Fleet Management Solutions for the Plumbing Industry
When plumbing businesses work to keep track of their assets, they can run across considerable challenges, such as:
The push to fit more and more jobs in a finite number of hours
The need to be able to verify the amount of time workers spend on jobsites
The ability to keep accurate records and pull actually helpful reports
The rising cost of fuel (and the unfortunate ease of using fuel inefficiently)
Unsafe, time-consuming, and revenue-wasting driver behavior
Fleet theft and time card padding (even when done innocently or subconsciously!)
Every plumbing business experiences these issues at some point. Even though these leaky practices seem small, they can have significant bottom-line-ruining effects.
Fortunately, modern-day fleet management solutions exist to help plumbing businesses thrive. For example:
GPS tracking solutions can help plumbing business owners know exactly where their vehicles and critical assets are and even provide vehicle location data and ETAs. This can help fleet managers send out the right vehicles at the right time in real time instead of having to call around. (Being able to provide accurate ETAs to customers can help with your company's reputation and customer service too.)
Fleet management software can pull that information into easy-to-use, accurate reports for billing, verification, and more. Whenever you need to estimate required hours for future projects, mitigate customer disputes, or resolve internal questions about efficiency, you can pull one instantaneous report and have the answers you need.
AI dashcams and GPS trackers can help drivers perform more efficiently, which leads to added time in the workday. This makes tackling more gigs much more possible.
The increased oversight available with these fleet management solutions can help managers identify unhelpful driver behaviors, such as fuel mismanagement, vehicle idling, and improper braking and speeding practices. This can help managers take swift action to correct behaviors, work toward fuel efficiency, and implement better driving behaviors. The result? You'll reduce wear and tear on your vehicles, save money on their maintenance, and improve your brand's reputation.
Intuitive fleet operations software can help fleet managers plan routes, see vehicles' locations, and even glean data about vehicle maintenance status. This helps plumbing business owners keep their fleets in tip-top shape through proactive maintenance.
By onboarding these fleet management solutions, plumbing businesses can enjoy reduced insurance premiums, fewer accidents, enhanced driver safety, reduced fleet theft, and more.
In other words, fleet management platforms can give plumbing business owners increased peace of mind and higher profits.
Selecting Stellar Fleet Management Solutions for Your Plumbing Business
Plumbing business owners interested in fleet management software have many different options. This can be a good thing, but it can also be overwhelming.
You don't want to spend hours and hours (and days and weeks) researching and interviewing endless fleet management providers. That's time you could spend on other value-adding actions for your business.
Here's where we would start:
Read customer reviews.
You are not the first plumbing fleet manager or business owner to benefit from a fleet management solution! See what your peers have done by reading their stories.
When you're interviewing potential providers, don't be afraid to ask questions.
For example, ask about the level of onboarding support and the ongoing resources you'll have access to. Your fleet management solution should never be a hassle, either initially or in the long term, and your fleet management provider should go above and beyond to ensure this.
Finally, ask about pricing and contracts.
We've found that many fleet management providers lock their clients into ironclad (and extremely expensive) year-round contracts, which doesn't work for many types of seasonal plumbing businesses. Instead, see if your prospective fleet management partner offers month-to-month contracts. This can lower your bills and better your experience. (And, not for nothing, it forces your provider to continually earn your business!)
Our Fleet Management Solutions Are Ready to Help Your Plumbing Business Thrive
If you're looking for a way to prioritize your team's safety, alleviate frustrating fleet theft or wasted time, and even proactively prevent accidents and unsafe situations, high-quality fleet management software is the way to go. Because success within the plumbing industry depends upon talented technicians taking expensive equipment to remote locations on time, your fleet is your business in a big way.
At ClearPathGPS, we've got fleet management down to a science. So whether you're interested in a simple one-dashboard-to-rule-them-all user experience or are excited about using real-time fleet data to lower your gas bills, we can help. Reach out to our team for continually updated industry information and business-boosting fleet management solutions.
Request a demo today to see ClearPathGPS in action. Want to learn more? Download our free guide, The True Cost of GPS Tracking, to start learning about GPS tracking and your business.