Blog Posts
Six Plumbing Fleet Issues & How GPS Tracking Can Help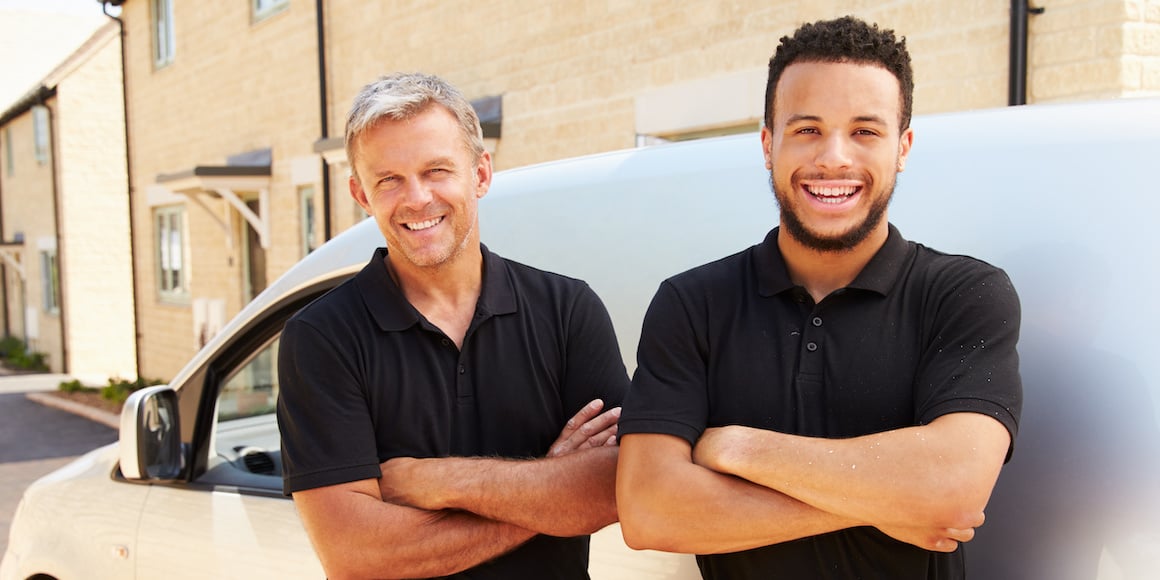 If you manage a plumbing fleet, you know there are countless things to keep track of at all times. Vehicle location, fuel usage, maintenance tasks, driver behavior, customer needs—you've got a lot of different balls in the air. And you know that if one of those things gets out of hand, it can be hard to keep a handle on your entire business.
That's a lot of pressure.
If you've ever wished that you had eyes in the back of your head, more time in your day, or a culture of total trust among your team, we've got good news.
Today's modern fleet management software, truck GPS tracking solutions, and other feature-rich visibility tools can help you solve the most common plumbing fleet issues, provide peace of mind to you and your staff, and even help you boost your business.
Here's how.
Six Common Plumbing Fleet Issues
We've spent years supporting streamlined fleet management for plumbing professionals. In those years, we've heard time and again that these are the top issues that plumbing businesses face:
Driver behavior and safety: This includes distracted driving and unsafe driving events such as hard stops and stalling.

Dispatch inefficiency:

For example, when you accidentally send the wrong vehicle out or waste time calling around to locate the right vehicle and identify their availability.
Vehicle downtime and maintenance management: This covers everything from forgetting important maintenance milestones to encountering unexpected vehicle outages or breakdowns.
Fleet theft: This includes sneaky types of fleet theft, such as unauthorized gigs and drivers taking scenic routes.
Billing, disputes, and payroll: Pulling and reading reports or figuring out what happened when a customer raises an issue takes time.
Driver training: This includes finding ways to see how drivers performed and providing helpful, in-the-moment feedback
An easy-to-use, powerful, and accessible location tracking and fleet management system can help you manage these issues without adding more work to your plate.
Let's take a look at those issues again and pose solutions enabled by GPS tracking devices.
Here's Exactly How GPS Tracking Can Resolve Common Plumbing Fleet Issues
GPS tracking gives you visibility into driver behavior.
With a GPS tracking system, you can keep tabs on various driving behavior parameters, such as sudden braking, acceleration, and speed. This can help you flag unsafe or inefficient driving and take steps as needed to address any issues.
GPS tracking erases potential dispatch inefficiencies.
GPS tracking provides real-time data on vehicle and asset locations. As a result, when you need to send a vehicle to a customer location, you can see where your vehicles are at a glance and make an informed decision about which vehicle to send.
GPS tracking makes vehicle maintenance simple.
With real-time data about your vehicle's usage, mileage, and other maintenance milestones, you can schedule needed maintenance—or even pre-schedule preventative maintenance. Plus, with innovative maintenance features that allow you to create and complete maintenance tasks, you'll never have to worry about overlooking maintenance alerts. This helps you stay ahead of potential issues before they become problems.
GPS tracking reduces the opportunity for fleet theft.
Because you have real-time location data for your trucks, monitoring vehicle activity and identifying unauthorized use will be much easier. And if someone from outside your company steals a vehicle, you may be able to recover it much more quickly if it is equipped with a GPS tracker.
GPS tracking makes handling paperwork and disputes much easier.
Busywork surrounding your fleet's documentation, payroll, and disputes usually takes up a lot of fleet manager time and bandwidth. With easy-to-read automated reports and simple ways to check vehicle activity, routine tasks and acute issues will be a breeze.
GPS tracking demystifies driver training and paves the road for helpful feedback.
By allowing them insight into driving behavior and providing real-time feedback through tech and tools such as AI-enabled dashcams with GPS, fleet managers can help drivers improve their performance.
Here's How to Grow a Plumbing Business with the Right GPS Tracking Solution
If you're interested in accessing these solutions to common plumbing fleet issues, it may be time to partner with a GPS tracking and fleet management provider. We'd recommend taking these steps first to find a best-fit vendor:
Determine your needs: Consider your goal with a GPS tracking system. Which parts of running your business are the most frustrating? Do you see clear areas where more visibility and accountability would improve your business?
Look for excellent customer service: Fleet management solutions can get complicated. You need to make sure your experience is as simple as possible. If your provider has a team that goes above and beyond to ease your GPS tracking journey, that will make all the difference.
Consider how streamlined the solution is: It's easy for GPS tracking and fleet management systems to get extremely feature-heavy. You'll use your dashboard daily; you don't want it to be too busy or clunky. Set up demos with your potential GPS providers and see how their user interfaces feel.


Ready to Take the Next Step? We're Ready to Help
At ClearPathGPS, we're proud to partner with plumbing businesses to streamline operations and increase profit potential. If you want to learn more about how we can help you, schedule a demo with our team.