Blog Posts
The Best Fleet Management Software Focuses on You—Here's Why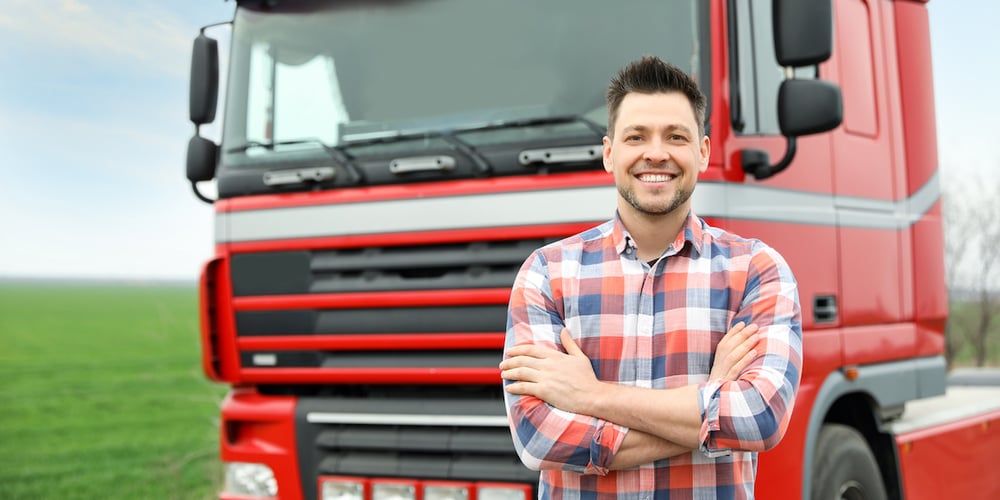 When you choose a vendor to support your business goals, you want to work with someone who cares about your experience, right?
Of course—but let's talk about why. If you find a partner for an essential business service that genuinely has your best interests in mind, you'll:
Be able to support a better outcome for your customers.
Have a better chance of supporting your employees well.
Be better poised to grow your business and boost your bottom line.
Have a better experience overall.
Sounds great, but let's keep digging.
Why You Need Fleet Management Partners Focused on You
Say you're onboarding a new fleet tracking app or vehicle maintenance software service. When you find any fleet operations vendor that keeps your experience top of mind, they'll probably make sure their system is brimming with, well, actually helpful-to-you features—flexible pricing, easy-to-access fuel cards, route planning, vehicle maintenance reports, and more!
This focused-on-you vendor will think ahead and help you learn tricks of the trade to better your business. And they'll make sure that performing the things you do every day—fleet tracking, tracking a specific truck, managing fuel reports—is as easy as possible.
Why? It's simple: They're focused on you, they respect your time, and they want you to succeed. (Compare that to the impersonal distance of a big-box solution.)
Of course, finding a partner with expertise and attentiveness can take time and effort.
Enter the internet.
Previous customer reviews are an incredible tool when you're looking for the best fleet management software for your needs—So much so that customers are about 63 percent more likely to trust companies with online reviews as opposed to those without. But what's the best way to use customer reviews to find a great partner? What do you need to look for?
Here's what you need to know.
Bigger Fleet Management Platforms? Not Always Better
While you might be tempted to go with a big-name GPS vehicle tracking tool, it might make sense to take a beat before making that decision.
(If you check out the customer reviews associated with bigger names, this decision could become very easy.)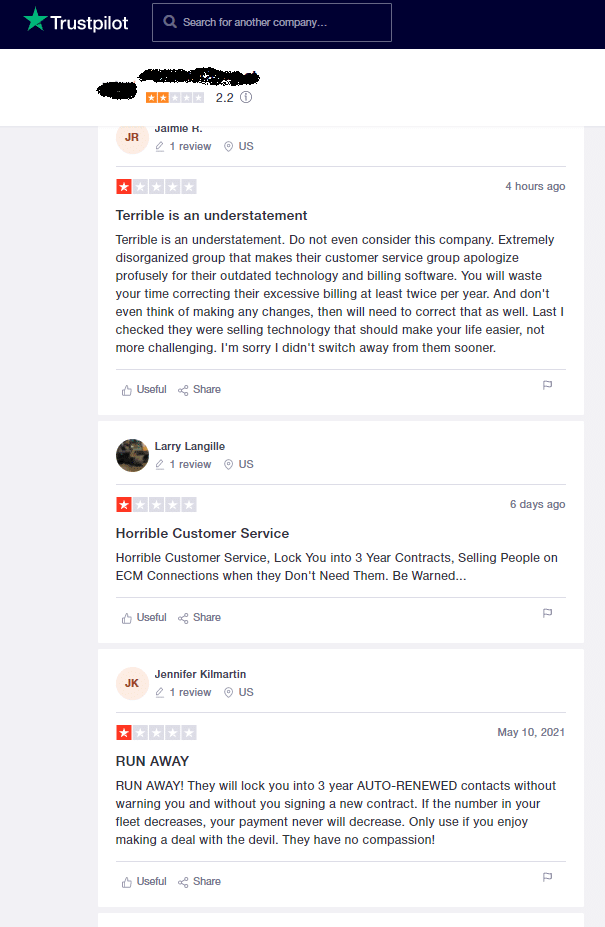 We all know the maxim that quality trumps quantity. Fleet management software is no exception. When working with a well-established name, there may be perks to enjoy, but you'll also find that you're missing out on the personalized support, flexibility, and attention to detail you'll enjoy with a smaller provider.
As you're delving through customer reviews, a good rule of thumb is to keep your mind open to working with a smaller brand or one that's new to you instead of just skimming the results for names you're familiar with. Doing that could cause you to miss out on a great partnership, so skimmer beware!
Behind the Scenes with Larger Fleet Management Software Providers
While you could stand to miss out on perks by going with a larger provider, selecting a bigger name for your truck fleet management solution can also lead to negative experiences.
Here are some common examples of issues experienced with larger fleet management providers:
There's a lot of bureaucracy and paperwork. (Translation: waiting!)
As a client, you get less flexibility and agency—no experimentation, no customization.
You won't get as much face time or hands-on help; instead, you'll be left to fend for yourself.
These larger providers will be less likely to work with you on price and more likely to trap you into ironclad contracts to pad their bottom line regardless of your experience.
If you want to find the best fleet management software—and the provider focused on you and your goals—it's time to go back to the customer reviews and find the stories that truly shine.
Seal of Approval: How to Find the Best Fleet Management Software for Your Needs
Take a moment and think about the level of service and types of tools you want to see in a top tracking system (e.g., the ability to track vehicles in real time and tools that help you improve driver safety and lower fuel costs). Then, head back to your favorite customer review sites once you have identified those attributes. Trustpilot and Capterra are great places to get started.
It may help to kick off your search by filtering for 4- and 5-star reviews, but the real treasure hunt will take place in the text of written testimonials (and even case studies). See if you can find reviews that mention the features and tools you've identified as necessary.
As you read, keep an eye out for real-deal helpful things that show customer satisfaction. For example, ClearPathGPS customers have written glowing reviews about the following:
The flexibility and functionality of our truck and fleet management software
The user-friendliness of ClearPath's suite of apps—even for the most technophobic employees
The time we invest in helping our customers customize their GPS tracking solution
Our super-friendly, super-helpful customer support team
Our flexible pricing and intuitive, helpful monthly contract model
Whether you're looking for free trials, mobile apps, or just the real-deal inside info on the fleet management solutions you're considering, gleaning data from verified customer reviews is the way to go.
ClearPathGPS keeps your needs top of mind, unlike other providers. We don't roll out one-size-fits-all solutions. Rather, with us, you get exactly what you need, and you have a team of experts ready to ensure you make the most of your fleet management software. Can ClearPathGPS help your operations get better results? Request a demo or contact us today!
---
At ClearPathGPS, we are focused on helping our customers improve their operations and bottomline. Our top-rated GPS fleet tracking solutions provide real-time data insights and tools needed to more effectively manage the vehicles, people, and assets businesses send into the field everyday. Can ClearPathGPS help your operations get better results? Let's find out – request a demo or contact us today!