Managing Drivers
4 Fleet Safety Regulations You Must Implement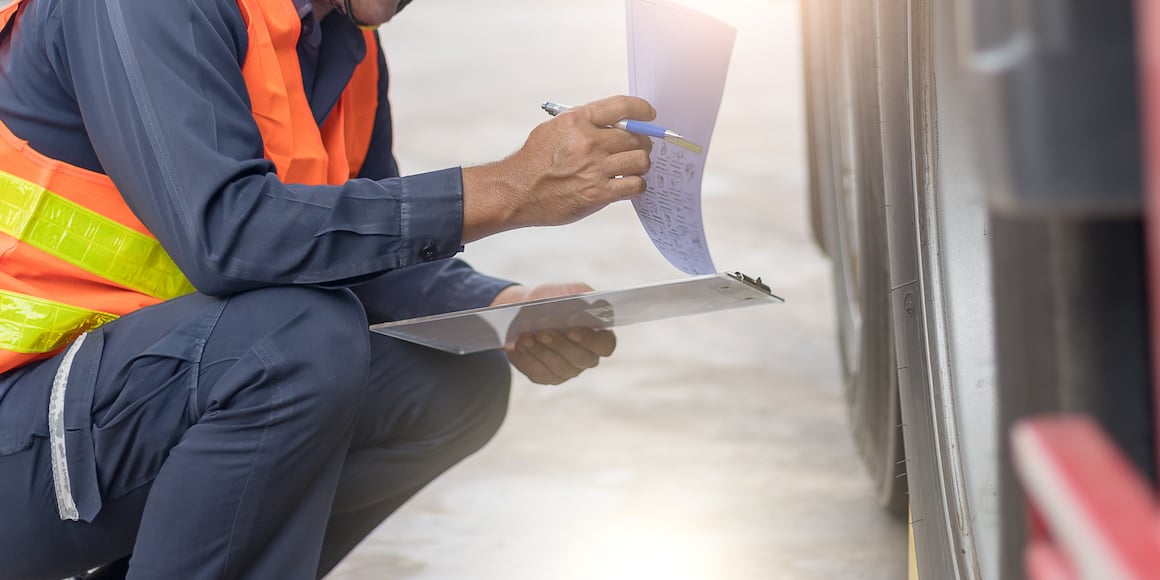 Fleet safety regulations are a must for any company—end of story.
This may seem obvious. Of course you want to maintain safe operating conditions and procedures. You want to protect your workers, your assets, your reputation, and yourself. It's a no-brainer.
Apart from simply keeping you and your team safe from harm, implementing fleet safety regulations can come with practical benefits. For example, if your business runs smoothly and safely, chances are you're well on your way to:
Maintaining legal compliance. Some fleet safety regulations aren't optional—they're legally mandated. If you fail to implement them, you could face fines (or worse).
Reducing your insurance costs. Some insurance companies keep tabs on the fleet safety regulations upheld and followed by their clients. Safer clients cost less to insure, so insurance companies provide benefits and perks for clients that follow safety practices.
Increasing your team's productivity. Drivers and technicians get more done when they're not constantly worried about their safety. Plus, some of the fleet safety regulations we'll discuss in a moment can also benefit your company's efficiency.
Boosting your company's reputation. Fleet safety regulations will help you avoid expensive and dangerous driving events that don't look good for anyone involved.

Attracting top talent.

The most employable candidates looking for careers in your industry are looking for companies that won't put them in harm's way.
However, implementing strategic safety regulations can be challenging when maintaining a fleet. Whether your fleet is large or small, it can feel like there's always an issue you need to address!
Fortunately, it can be easy to monitor and enforce the proper regulations as long as you know what they are—and have the right tools.
4 Key Fleet Safety Regulations To Implement Starting Today
These regulations are critical for the safety and success of any company.
1. Generate, Maintain, and Use Accurate Driver Behavior Reports
It's hard to start implementing safety regulations if you can't see how your drivers are performing and track changes in driver behavior. GPS tracking and dashcam systems can help you access and save data about the way your drivers drive—from speed, braking, and acceleration to idling and dangerous driving events. You can then use that data to create reports that provide feedback and coaching.
2. Implement a Regular Vehicle Maintenance Schedule
Staying on top of vehicle maintenance helps you keep your vehicles in tip-top shape. However, you can go further than that and have your fleet management systems monitor vehicle health regularly. Then you can start investing in proactive maintenance, or diagnosing issues before they become big problems. You can also receive automatic notifications that will alert you when maintenance is due. Doing so will save you time and improve fleet safety.
3. Prioritize Safe and Efficient Driver Behavior
Did you know AI dashcams come with front- and rear-facing cameras? With your rear-facing camera, you can monitor driver behavior. As a result, you'll be able to reduce distracted driving, fatigued driving, lane departures, and much more. You'll also be able to provide training for good driving behaviors.
4. Discourage Fleet Theft
Not only does fleet theft chip away at your company resources, leaky practices and unapproved vehicle use can put your assets at risk. With a high-quality fleet management system, you can gain the visibility you need to ensure your vehicles are being used the way you want at all times.
Next, let's chat a little bit about how having the correct fleet management solutions available can make implementing these fleet safety regulations much more manageable.
How GPS Tracking and AI Dashcams can Help Implement Fleet Safety Regulations
With high-quality GPS tracking, AI dashcams, and a fleet management system to help you view and leverage the data you receive, you can:
Locate and track your vehicles and assets in real time
Monitor speeding and other harsh driving behaviors
Keep tabs on potentially dangerous driver statuses (e.g., distraction or fatigue)
Provide in-cab coaching as needed
Monitor the performance of your vehicles
Monitor compliance with vehicle maintenance and hours of service
Record vehicle incidents and dangerous events in real time
Access detailed reports to help you manage your fleet better
With this visibility and data at your fingertips, you'll be better equipped to implement and enforce required safety regulations.
And, if you need support, we're here to help.
Need Help Implementing Strategic Fleet Safety Regulations?
At ClearPathGPS, we're all about getting you the data you need to know exactly what's happening in your business. With our solutions, you can work towards practical, helpful levels of visibility throughout your company. You'll also be able to implement systems to help hold your drivers accountable to safety practices.
The result? You'll be able to increase safety throughout your company—and stop leaky practices that cost you money.
Sounds good to you? You're not alone. We've been able to help many businesses protect their workers, their reputation, and their bottom line by implementing data-driven fleet safety regulations.
If you want to learn more about how ClearPathGPS's fleet management solutions can help you drive greater safety initiatives, schedule a demo with our team. And, in the meantime, check out our must-have resource: Key Areas to Consider When Maximizing a Field Service Business.