Blog Posts
Manage Your Vehicles and Assets More Effectively with Geozones
Draw a GPS Geofence Around Your Assets
A geofence is a location-based technology that works by drawing a virtual or imaginary border around an actual geographic area. (This area can be any size and any shape.) Using tracking technology (such as GPS), the person monitoring a geofence can receive alerts when specific devices or assets enter or leave the geofence area.
Let's assume your company regularly sends a lot of assets to job sites: trucks, trailers, containers, heavy machinery, etc. With ClearPath's geofencing feature, you can use an aerial view of the location to literally draw a virtual "geofence" around it, and the app will automatically monitor and record the comings and goings of all your assets there.
In fact, you can think of the geofence you set up around a job site as the easy, automated version of having your employees punch in and out.
Also, that same data your geofence is automatically capturing can also help make generating accurate invoices much easier, because you'll have a detailed report of every moment each of your employees and assets were within the geofence boundary. Plus, this data can help you answer a customer's challenge to your invoice with documented proof. Say a customer disagrees that your crew was onsite on a given day for as many hours as your invoice states. You can show that customer your third-party ClearPathGPS geofence report proof, and settle the issue with verifiable evidence.
Improve Customer Service and Satisfaction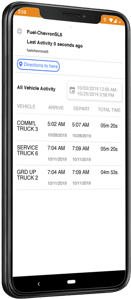 Thanks to the truism that what gets measured gets improved, just knowing your company has geofence around a jobsite—and someone is watching—will encourage your field employees to take their scheduled arrival and departure times more seriously. This means you can take on jobs with much more confidence that your staff is going to be arriving on time each day for that customer. Or geofence your fueling locations to make sure that employees are using fuel cards for their own vehicles…not loaning it out to their spouse or filling up their personal vehicle tank.
And here's an unexpected way geofences can benefit your customers… Geofences help customers get ready for arriving drivers at the right time – not waste their time during a painful four-hour expected arrival window. Let's say your customers want to know when your employees are about to arrive at their site, so they can begin preparing equipment for your tech's work, or readying a shipment for your driver to pick up.
With a geofence, you can trigger an automatic alert for your team (or your customer directly) as soon as your employee crosses into the area. This can save the customer from preparing too early and waiting around, or having to scramble to get ready as your employee knocks on their door. This advance notice is great for two reasons. First, it helps make your employees' time onsite much more productive, because they won't waste time standing around when they arrive, waiting for the customer to get the site ready for work to begin. Second, it means your customer's experience will be better — because they'll always be ready for your arriving drivers.
That can lead to lots of great benefits for your company: customer referrals, better customer reviews for your service, and even repeat business from that customer.
When you want to create a new geofence around, say, a new job site, all you have to do is go into our GPS tracking app, use the map feature to find an aerial view of the location, and draw your geofence boundaries however you'd like. You'll see a colored border around that site representing your virtual fence line, and from there forward our system will record (and alert the appropriate people on your team) every time one of your assets crosses that line and enters or exits the job site. Easy and effective!
---
At ClearPathGPS, we are focused on helping our customers improve their operations and bottomline. Our top-rated GPS fleet tracking solutions provide real-time data insights and tools needed to more effectively manage the vehicles, people and assets businesses send into the field everyday. Can ClearPathGPS help your operations get better results? Let's find out – request a demo or contact us today!