Blog Posts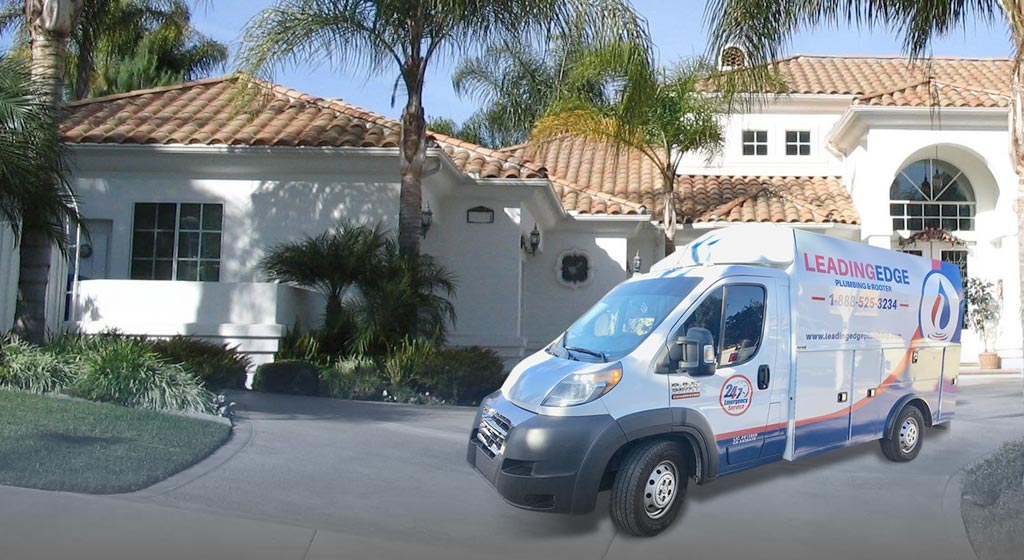 " After having two truck thefts in just a little over a year, the GPS units are great for giving us peace of mind that we're ready for this if it ever happens again.

JC Garcia

Owner, LeadingEdge Plumbing & Rooter
For 25 years, Southern California's LeadingEdge Plumbing & Rooter has been serving business and residential customers throughout Los Angeles, Orange, and Ventura counties. In addition to standard plumbing services, the family-owned business offers gas repair and installation, venting, repiping, drain cleaning, and other services. LeadingEdge Plumbing is also a 24/7 emergency company—always available to help a customer with a burst pipe, busted faucet, or overflowing toilet.
Challenges
A few years ago, LeadingEdge Plumbing & Rooter suffered a small-business nightmare: the theft of one of their most expensive assets. A thief stole one of the company's trucks from a jobsite. It was the first time that had ever happened in the company's 20-year history.
Making matters worse, because the company hadn't equipped their fleet with GPS trackers, neither the tech at the site nor the owner JC Garcia had any way to know which way the stolen vehicle was heading. When police finally recovered it, the thief had managed to offload all of the expensive tools and equipment onboard—which the company never recovered.
Solution
Immediately after this theft, LeadingEdge Plumbing realized they needed to know where their trucks and expensive equipment were at all times, in case anything like this ever happened again.
After extensive research, JC's wife found ClearPathGPS, which impressed them for several reasons. First, was the hundreds of glowing ClearPathGPS customer reviews and near-perfect star ratings review sites like TrustPilot. Second was the fact that, in addition to an affordable monthly charge, ClearPathGPS was also the only provider offering month-to-month service with no long-term contract.
Results
LeadingEdge Plumbing & Rooter got the chance to learn firsthand just how smart their decision was to equip their fleet with GPS tracking units—when a team of thieves stole another company vehicle from a jobsite. "But this time," explains JC, "our technicians knew their trucks had GPS, so they called both the cops and our office right away."
Using ClearPathGPS's live map view of the truck's movements, the team at LeadingEdge Plumbing's headquarters were able to guide police right to it. Soon after, the police stopped the vehicle, apprehended one of the thieves, and recovered all of LeadingEdge Plumbing's equipment. In total, nearly $100,000 made its way back to LeadingEdge Plumbing's offices.
""Because ClearPathGPS helped us guide police to the truck in real-time, right after it was taken, we got everything back—the truck itself, all of our tech's tools, and a trailer jetter worth about $50,000. ClearPathGPS is the best investment our company has ever made."

JC Garcia

Owner, LeadingEdge Plumbing & Rooter
Although LeadingEdge Plumbing's original reason for wanting GPS fleet tracking was theft recovery, the company has found additional benefits of using ClearPathGPS. JC outlines a few.
Improved dispatching and service.

"We now know exactly where each technician is in the field at all times. And because the system records when they arrive at a job, we can estimate how much time they'll still be at that site. All of this helps us make better decisions, quickly, about which tech to send to a new job when a customer calls with a request."

More accuracy with job durations and timecards.

"We also use the ClearPathGPS system to keep track of when our guys get started on a job and when they leave. That helps a lot with invoicing, with timecard accuracy, and with getting a better sense of how long each type of job takes."

Peace of mind.

"After having two truck thefts in just a little over a year, the GPS units are great for giving us peace of mind that we're ready for this if it ever happens again. Knowing that helps us spend less time worrying about losing expensive assets and more time focusing on delivering outstanding service and growing our business."
LeadingEdge Plumbing chose ClearPathGPS to protect the business from vehicle theft—which it did successfully. But the company has also been able to drive impactful change and improve their operations in many more ways as well!

Company: LeadingEdge Plumbing & Rooter
Industry: Commercial landscape maintenance and enhancement
Fleet: 6 vehicles
Needs: Monitoring their vehicles in the field against potential theft.
Solution: They installed GPS tracking devices on every vehicle and monitored their whereabouts 24/7 through the ClearPathGPS app.