Blog Posts
Mobile Phone Vs. Vehicle GPS Tracker
Why Vehicle-based Tracking Is the Smarter Option for Business Fleets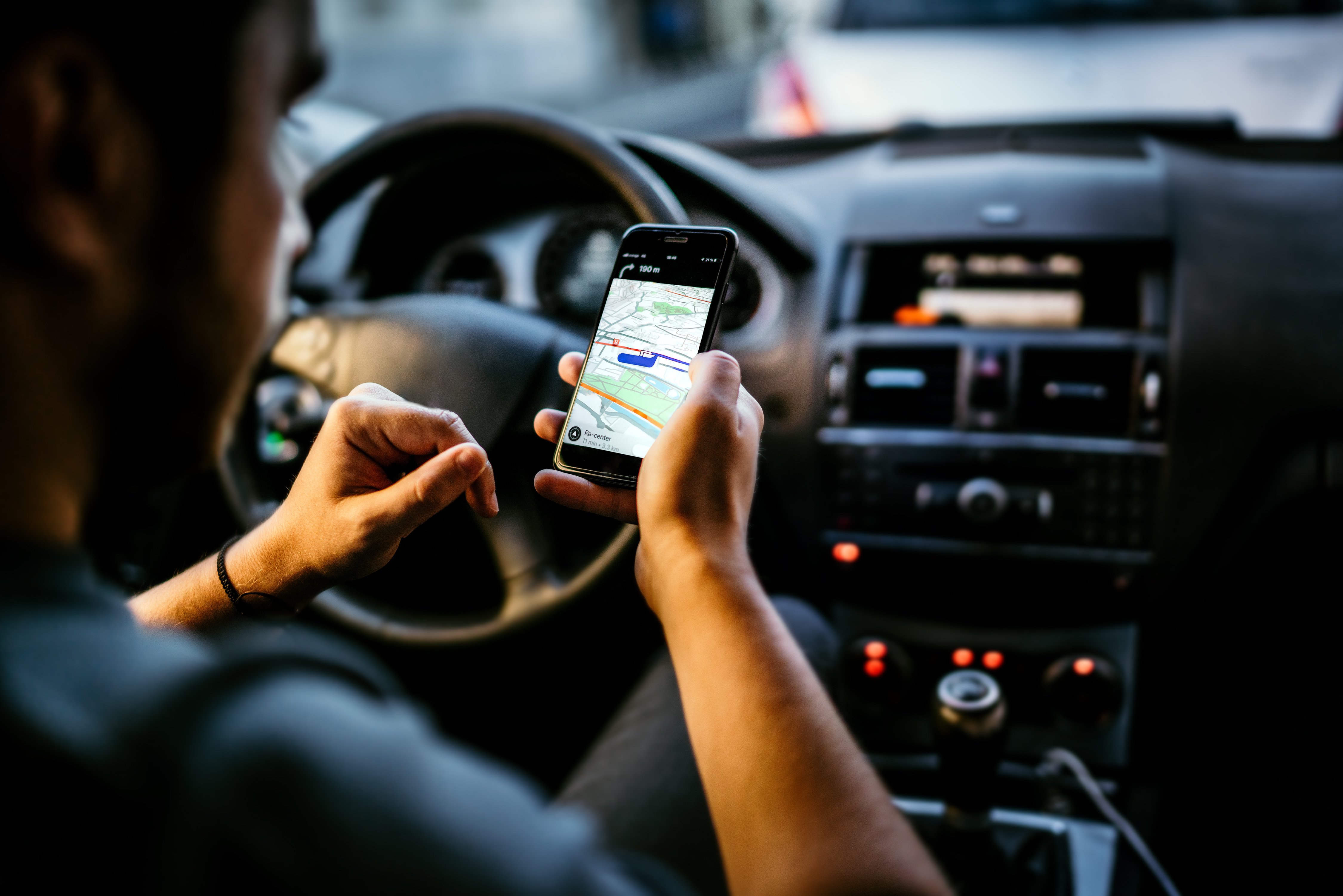 If you run a vehicle-dependent small business—from general contracting to landscaping and beyond—knowing your vehicles' statuses at all times can be an enormous advantage for your operations.
With excellent GPS tracking, you can:
Support

route optimization

Lower your fuel costs
Increase your company's revenue
Reduce your auto insurance premiums
And more
But to realize these benefits, you need to choose your technology carefully.
Many companies opt to use mobile phone tracking instead of vehicle GPS tracking. Now, they're wondering why they are not getting the data they need to boost their business.
Here's why:
The Limitations of Tracking Your Fleet Drivers via Their Mobile Phones
Installing apps on your field employees' mobile phones doesn't reliably provide the most accurate and useful information about your vehicles.
There are many reasons for this:
Your field service techs can disable tracking on their phone.
Your drivers could enter an area with poor cell service.
A driver could forget to take their phone to a job.
And here's the kicker: GPS trackers kill phone batteries. This costs you your data and your employees' use of their phones—a lose-lose for everyone involved.
Those are significant limitations. To determine which tracking option is best for you, let's discuss the type of data you need.
5 Types of Data You Need from a Vehicle GPS Tracker
1. Driver Behavior
Do your drivers treat company trucks like rental cars? Do they brake too hard, race on the road, or hit corners too aggressively?
With a phone-based tracking app, you'll never know—until you get the repair bill or your driver brings you the ticket from the police.
This isn't good for your company. (Or the longevity of your trucks.)
With an accurate vehicle GPS tracker, you can catch these issues before they become big problems. You can also award drivers for treating your vehicles with respect and care—a win-win for your assets and employee morale.
2. Excessive Idling
Let's say you pull up your account and see that your driver's mobile phone is at the job site where he's scheduled. That's great, if all you need is simple location data … about your driver's phone.
Does this tell you anything you can use to boost your business or protect your assets?
For example:
Is the truck's engine turned on or off?
If it's on, how long has it been on?
Does your field employee have a good reason for letting your engine idle?
The risks of excessive idling go beyond simply wasting fuel. Excessive idling can cause undue wear on your vehicle and even lead to fines.
With an accurate vehicle GPS tracker, you can discover excessive idling patterns and figure out a solution early on.
3. Maintenance Milestones
With the right vehicle GPS tracker, you can set time- or mileage-based alerts for your team to schedule your vehicles for regular inspections and maintenance.
You can even integrate your service with a maintenance scheduling app so your app automatically sets up an appointment when a vehicle hits a "time-for-check-up" milestone.
This will save time and help you increase the average ROI of your fleet trucks.
4. Equipment Hours
Vehicle GPS trackers can track more than just commercial vehicles.
Asset GPS trackers help you collect crucial data about your specialized machinery, such as generators or wood chippers. (Think: Hours used on a job site, for starters.)
This can help you simplify your billing, keep accurate records, and even track your powered equipment's health and maintenance needs.
5. Regulatory Data
If your company's fleet is regulated under the International Fuel Tax Agreement (IFTA), your business has a small but real chance of being hit with an IFTA audit each year.
IFTA regulators demand that businesses record and archive meticulous details for every trip taken by every vehicle in their fleet on any given day of the quarter or year in question.
That includes mileage, travel, and fuel-tax data for every truck in your fleet.
Phone-based trackers don't provide the specific, detailed information you need for an IFTA audit.
The No. 1 Reason You Need a Vehicle GPS Tracker: What If Someone Steals Your Truck?
Finally, imagine this nightmare scenario: A thief steals one of your fleet trucks from a job site.
If your GPS tracking service is just an app on your employee's phone, your only hope is that your employee left the phone in the truck—and that the thief doesn't spot it and throw it out the window.
Worse, you'll probably also have expensive equipment and machinery in that vehicle, which you will likely lose. According to the National Insurance Crime Bureau, only about 20 percent of stolen company equipment was recovered in 2016.
This isn't hypothetical. It happened to one of our clients. But because they had GPS fleet tracking, they recovered their stolen property.
Choose Vehicle GPS Tracker to Truly Boost Your Business's Bottom Line
When it comes to benefiting your business as practically as possible, the team at ClearPathGPS is ready to provide timely support. We'll help you leverage our top-rated GPS fleet tracking solutions to glean real-time insights and effectively manage your assets, vehicles, and team.
Ready to learn more about vehicle GPS tracking? Request a demo today!