Blog Posts
Fleet Theft: How One Company Learned From Their Mistake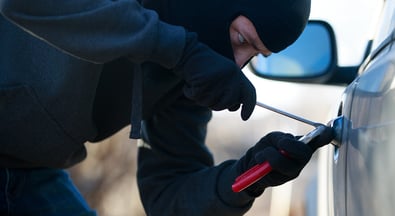 If you've ever felt like you've had a crappy Valentine's Day, you should check out what happened to JC Garcia and his wife on February 14, 2016.
On that day, the husband-and-wife owners of LeadingEdge Plumbing & Rooter in Sylmar, California, had one of their company trucks stolen. Their first company fleet theft in 20 years. On Valentine's Day. Lovely, right?
But things got worse.
The company didn't have gps vehicle tracking devices, so they weren't able to track down the stolen truck right away. That meant by the time it was finally recovered, the company had permanently lost $40,000 in tools and equipment, because they had no way of figuring out where the truck had gone after the thief took it.
Yep, company fleet theft is an awful, horrible nightmare. But like the comedian Jed Grody says, "Things can always get worse. All you have to do is add sharks. Even if you're already getting attacked by a shark, if more sharks show up… that'd still be worse."
In this case, a shark stole the company's truck, and then he took tens of thousands of dollars' worth of their equipment out of the truck and sold it to more sharks.
How LeadingEdge Plumbing Turned the Tables on the Next Jack#%$ Who Tried to Steal One of Their Trucks
After that terrible experience, JC's wife researched GPS vehicle tracking companies, found ClearPathGPS, and signed up for our month-to-month service. And guess what happened next?
Just a year later, in July 2017, another shark tried to steal a LeadingEdge Plumbing truck.
But this time the company was able to smack that shark right on the nose.
Because their service technicians knew the trucks now all had GPS monitoring installed, as soon as the tech realized his company truck had been stolen, he called both the police and the home office.
And in a scene that probably looked like a spy thriller, the LeadingEdge team watched on their ClearPathGPS online dashboard as the little dot representing their stolen vehicle moved around the city. Communicating this information in real-time to the police over the phone, they were able to guide the cops—including a police helicopter—right to the thief's location.
Less than one hour after realizing their company truck had been stolen… BAM! Thief caught. Truck recovered. Tools saved. And this time, nearly $100,000 in equipment made its way safely home to the LeadingEdge Plumbing headquarters, instead of disappearing into another pool of sharks.
Two Fleet Theft Lessons Here
The first lesson is for truck thieves in Sylmar, California: Don't mess with LeadingEdge's vehicles.
The second lesson is for you, the business owner worried about your own company trucks getting stolen. Start Tracking Them.
At ClearPathGPS we help field service businesses—including landscaping companies, plumbers, roofers, and HVAC businesses and, more—improve their operations and improve their bottom lines. To learn more about how businesses like LeadingEdge Plumbing Service benefit from the ClearPathGPS fleet tracking solutions, contact us today!