Blog Posts
Why Polar Bear Services Switched to ClearPathGPS Fleet Tracking Solutions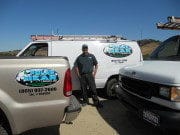 ""We love the ClearPathGPS app so much more than the one we had before. I've got my ClearPathGPS screen displaying all day. It's a great way to know exactly where everyone is all the time, and who to send where."

Mandy Souza

Polar Bear HVAC Services
About Polar Bear Services
When the owners of California homes, hotels, corporate buildings, and even the state's famed wineries need help temperature-controlling their properties—day or night—many of them turn to Polar Bear Services, Inc. The 24/7 company is the go-to source for refrigeration, heating, and cooling needs of residences and businesses up and down California's Central Coast.
Company Growth Led to Challenges
Polar Bear Services has gained a reputation among Central California's business community as a professional, reliable, and friendly HVAC services vendor.
As a result, their customer list continues to grow and the company continued to hire more field technicians, bought more vehicles, and took on more jobs serving businesses throughout the area. This was great news for the company. But as Office Manager Mandy Souza explains, it also led to a couple of challenges.
Billing and Proof of Service
We had some difficult billing moments with new commercial customers, because they didn't know when our field techs arrived at the job site or when they left," Souza says. "Our techs might show up and start working at 10am, but the customer contact might not see them until 11. We needed a way to prove to customers exactly how much time our techs were spending on the job."
Managing Maintenance Schedules
Another challenge was keeping track of a maintenance schedule for the company's growing fleet of trucks and vans. "We wanted an automated way to know when a truck needed to come out of rotation and go in for basic service," Mandy explains.
Solution – Leverage GPS Fleet Tracking
Polar Bear Services did some research, and they concluded the best way to solve these challenges was to equip their fleet with a GPS tracking solution: devices installed on each vehicle, all connected to an online application that the company could access anytime on any computer or smartphone.
But there was one big problem. The company signed up with one of the major GPS tracking providers—and their experience was terrible. "The other GPS company's software was confusing and difficult to use," says Mandy. "They didn't have a lot of training materials to guide us through it, either. And when we called with questions, their support team wasn't helpful at all."
Nor was this the only problem Polar Bear Services faced:
"The system itself also dropped service often," Mandy explains, "and that meant we'd lose mileage and other data on our vehicles."
So the company did some more research, and they found and switched to ClearPathGPS, a GPS fleet tracking company with hundreds of perfect or nearly perfect customer ratings on review sites like TrustPilot.
Results Once Switching to ClearPathGPS

In addition to solving the original challenges that led them to GPS fleet tracking in the first place—proof of time-on-site for customers and vehicle maintenance—Polar Bear Services is finding lots of other ways to use their GPS fleet tracking solution to improve the company's operations.
Ease of Set-Up and Use
"ClearPathGPS was so helpful and patient walking us through using the system. And when we call with a question, there's always someone there to help us right away." The team found the ClearPathGPS app much more user-friendly and makes dispatching and keeping track of the fleet much easier than before.
"I've got my ClearPathGPS screen displaying all day," says Mandy. "It's a great way to know exactly where everyone is all the time, and who to send where."
Easily Tracking Maintenance
Mandy and her team use their ClearPathGPS app to monitor vehicle-health data and to set up a regular-maintenance schedule for each company truck and van. "That's also going to save us money in the long run," she says, "because we'll be able to catch minor vehicle issues quickly and make sure each vehicle is getting its regular service."
Monitoring Driver Behavior
The company is also using the ClearPathGPS solution to monitor driver behavior in the field. "It's great that we can get these reports every day, like if anyone had been speeding in our vehicles, or driving too aggressively."
Keeping Everyone Accountable
"Our techs know we're monitoring them while they're in the field, and that's helping to make sure their time cards are more accurate, which is saving the company money."
Protecting Vehicles Against Theft
"One of the perks for our field techs is that they can take home their company truck or van," Mandy explains. "And even though that means we don't have the fleet behind a locked fence every night, the GPS tracking on these vehicles gives us peace of mind that we're still protecting them against theft."
Generating More Useful Data
"As we take on larger jobs that require several vehicles at a time, we're seeing the benefit of using tools like the ClearPathGPS geozones," she explains.
"They make it easy to track all movements in and out of the jobsite area throughout the project. That will help us keep an accurate record of all hours worked for billing purposes, and also help us get a better understanding of how long some larger and more complex jobs take."
With ClearPathGPS, Polar Bear Services finally found the vehicle tracking solution it had been looking for all along. Including a support team that treated the company the way they wanted to be treated—the way they treated their own customers.
---
At ClearPathGPS we help field service businesses—including landscaping companies, plumbers, roofers, and HVAC businesses and, more—improve their operations and improve their bottom lines. To learn more about how businesses like Polar Bear Services benefit from the ClearPathGPS fleet tracking solutions, contact us today!