Blog Posts
How GPS Fleet Tracking Can Help You Hire and Retain the Best Employees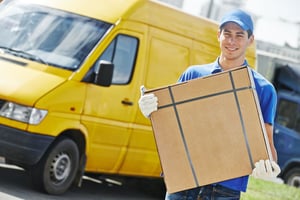 It's no secret that hiring good employees is a challenge regardless of industry these days. But staffing up to handle growth is only part of the problem. Retaining your best workers is another aspect of the labor shortage…especially when your competitors likely have their eyes on your best team members. In fact, a recent EC&M study found that top contractors felt that the current difficulty finding and retaining employees had the greatest negative impact on business growth.
So why are we talking about this topic on a GPS fleet tracking blog?
Because GPS fleet tracking systems can positively affect the top 3 factors that have the greatest impact on employee retention.
1. Competitive Wages and Compensation
You're paying your drivers for 8 hours a day each day regardless of how many stops they have. So when you use GPS fleet tracking to get an extra stop or two out of each of your drivers every day, you grow your profit margins…which means you can afford to pay your employees more than before you started optimizing their routes.
2. Positive Company Culture
A lot of business owners think GPS fleet tracking will lead to their employees feeling like they don't trust them. But if you use your GPS fleet tracking data to give 'atta boys to employees with good driver behavior, stand up for them when customers question proof of service, and protect them against fraudulent accident charges, your company culture also improves. Learn more about how to help your drivers understand how GPS fleet tracking benefits them in our free report.
3. Strong Safety Record and Risk Management
Your safety record does a lot more than improve your insurance premiums. A strong safety record was the third most important way to reduce employee churn in EC&M's September report. Driver behavior reports available in your GPS fleet tracking system keep you on top of safe driving issues and vehicle maintenance reports—also available with any good GPS fleet tracking system—ensure that your fleet vehicles themselves keep your drivers as safe as possible on the road.
All this being said, unethical practices related to employee monitoring can cause problems. Given the challenging hiring climate, it's more important than ever for companies to respect their employee's rights and use this data in responsible ways. Per business.com, to avoid alienating employees, make sure the following details related to your use of GPS fleet tracking are fully available at all times:
What GPS fleet tracking data will be gathered (harsh driving behavior, vehicle start/stop time, real-time location tracking, odometer, etc.)
What it will be used for
How GPS fleet tracking information will be processed
When fleet monitoring will begin
Where employees can access full details on all of the above