Blog Posts
Top 12 Benefits of GPS Vehicle Tracking
While we could argue there are easily 100s of benefits when it comes to GPS Fleet Tracking and ClearPathGPS, for those that appreciate quick hit lists – here you go! The top 12 benefits that will help your operations reduce costs, increase productivity, and quite simply help your business make more money!
1. Increase Fleet Productivity
Imagine if you could ride shotgun with each of your drivers. Would routes get done faster? Would stops take less time? Could you get more done each day? With ClearPath's GPS vehicle tracking solutions its like virtually riding shotgun with all your drivers all the time.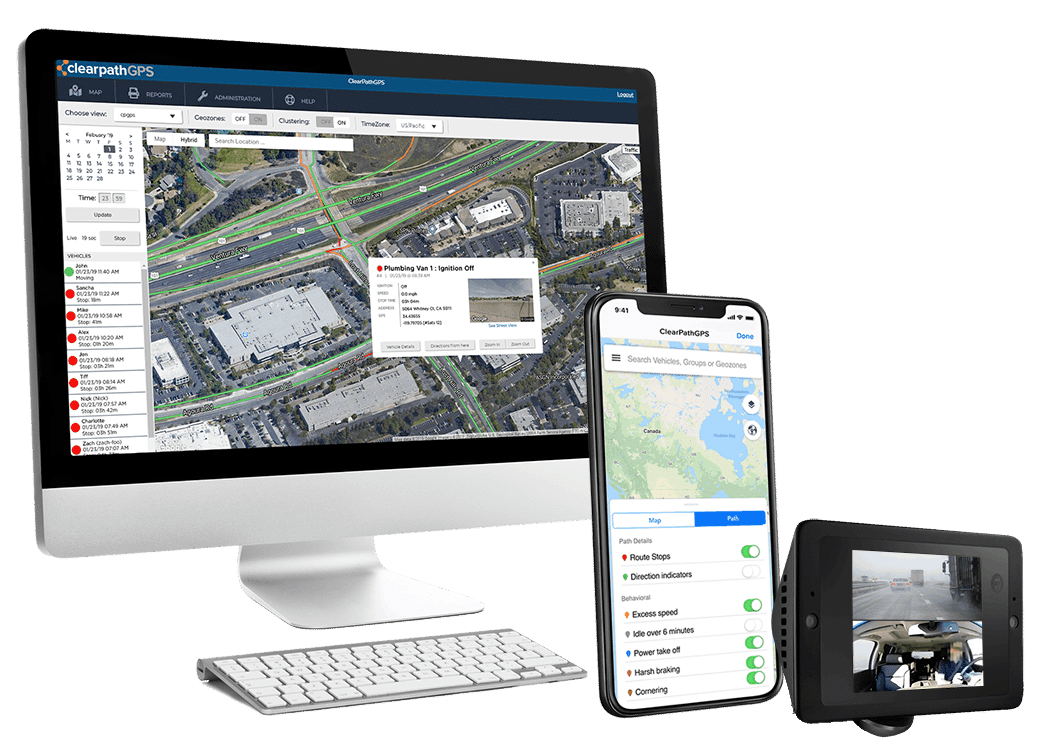 2. Control Unsafe Driving Risks
"Your driver was speeding through our neighborhood". Ever get a call like that? Ever wonder why one of your trucks need brakes more often than the others? Driver behavior has a big impact on the risk to your business and the wear and tear on your vehicles.
Driver Scorecard shows you a ranking of all your drivers' behavior.
Track hard braking and fast starts to get a complete picture.
Trend reports help you spot problem drivers before it's too late.
The Aberdeen Group study found that on average, companies that deploy GPS vehicle tracking devices save 13.4% on their fuel expenses. Fuel savings alone can more than pay for your ClearPathGPS vehicle tracking solution.
Speeding alerts and posted speed reports
Excessive engine idle alerts and reports
Prevent unauthorized use that wastes your fuel
Verify fuel card purchases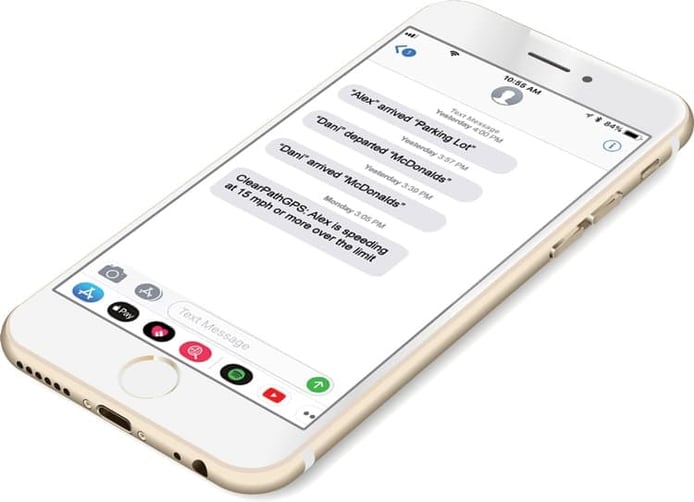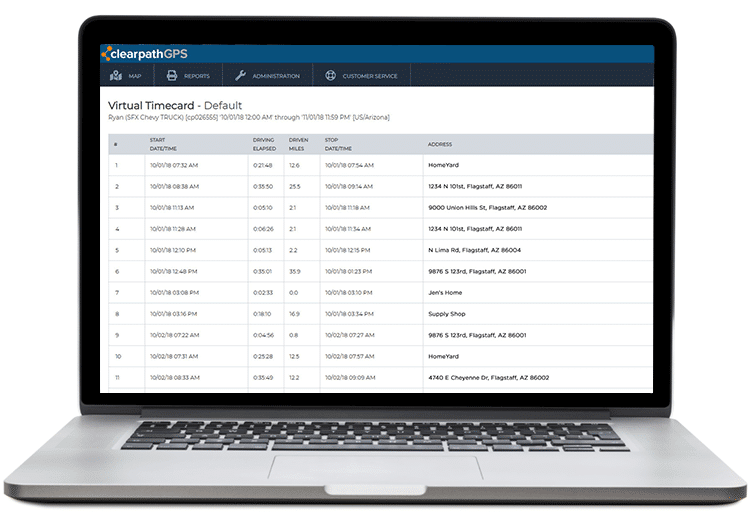 4. Eliminate Time Card Padding
A 40-minute stop shows up on the timecard as an hour… happens all the time. GPS vehicle tracking devices account for every stop and movement of the vehicle and can be cross-checked with employee timecards.
Virtual Timecard Report automates accountability
All trips and unaccounted-for stops are recorded
GeoZones alert on leaving yards or job sites
5. Stop Side Jobs
A driver uses your truck and tools to do a quick side job for cash on the way home. Side jobs are one of the most common complaints from service and delivery-based clients. ClearPath's GPS vehicle tracking devices can end that immediately.
Every stop, start, and route is accounted for
Monitor vehicles after hours or when drivers take them home
Street View helps you verify a "lunch break" was not a "side job"
Virtual Timecard Report automatically flags all stops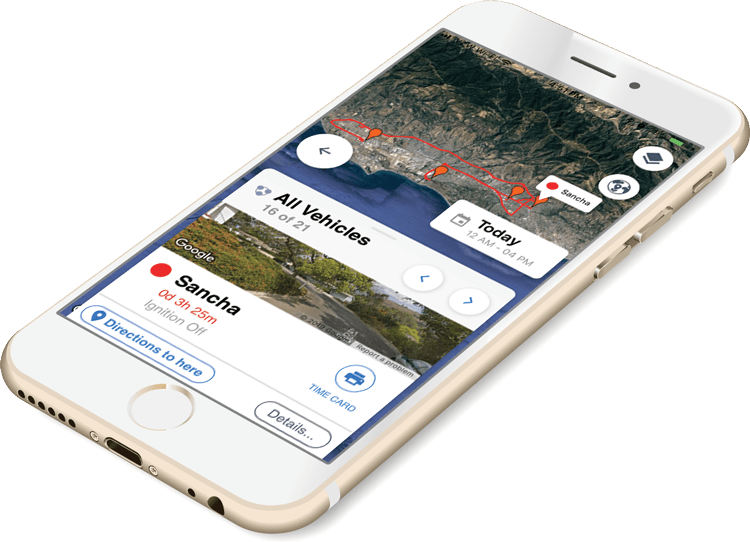 6. Control Unauthorized Use
Drivers running personal errands, side jobs, even taking a work truck on a camping trip. We've heard countless stories that would be funny if they weren't so costly. Unauthorized use not only wastes your money, but it also puts your business at unnecessary risk.
Automatic alerts for after-hours or weekend use
Driver ID option verifies who was behind the wheel on every trip
Complete route and stop history lets you see any side trips
Respond to customer calls quicker with vehicle tracking by dispatching the closest driver. Update clients with accurate arrival time estimates. Know when traffic is going to impact deliveries. Provide proof of service when customers question an invoice.
No more calling around to see who the closest driver is to a new job
Proof of service reports resolve client questions quickly
Realtime status improves dispatching efficiency
Virtual Time Card keeps billing accurately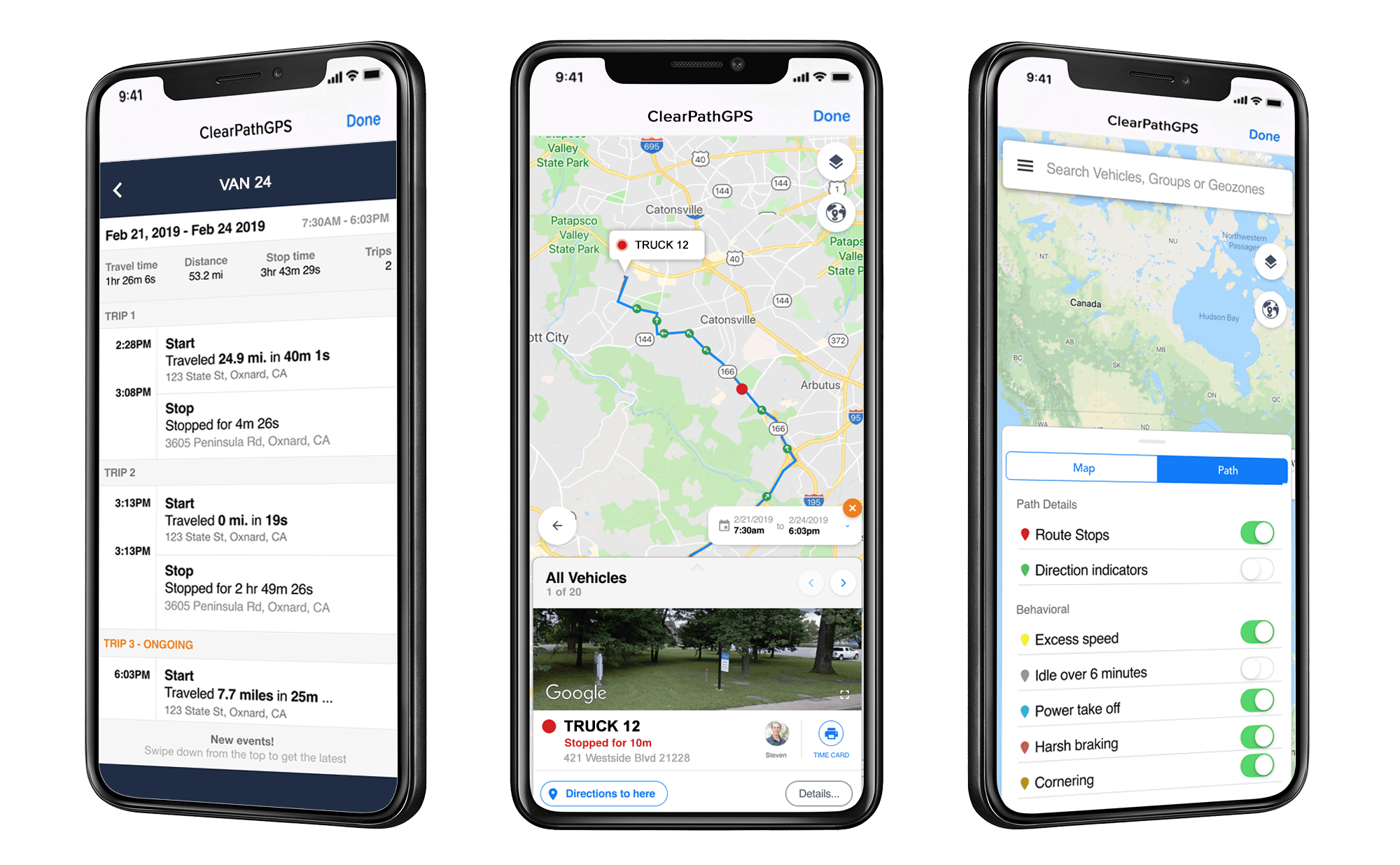 8. Ensure Quick Theft Recovery
If a vehicle ever should get stolen, recovery can be as simple as pulling up your truck tracking app on your mobile phone and telling the police where the vehicle is with a real-time GPS vehicle tracking device. Fast recovery can mean saving valuable tools and equipment too.
In a recent survey by a HUB International Insurance agent of the five major commercial insurance carriers, discounts for GPS vehicle tracking device deployments ranged from 5% to 25%. Showing a history of managing risk with GPS vehicle tracking devices is a powerful tool to negotiate rates at renewal time too.
Manage risk profile by reducing speeding and unauthorized use
Documented history of safety enforcement and improvement
Use tracking data to fight frivolous claims
Quick recovery after a theft with real-time tracking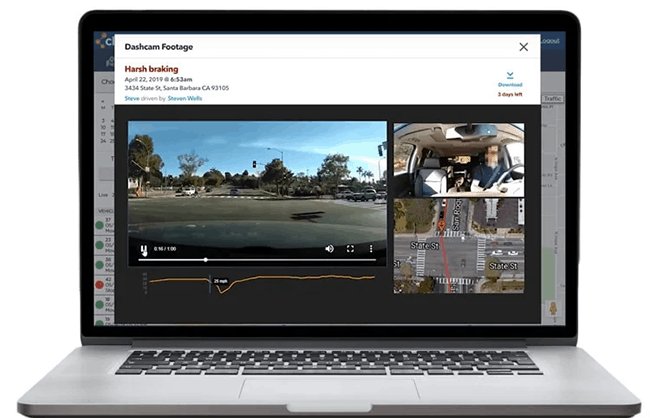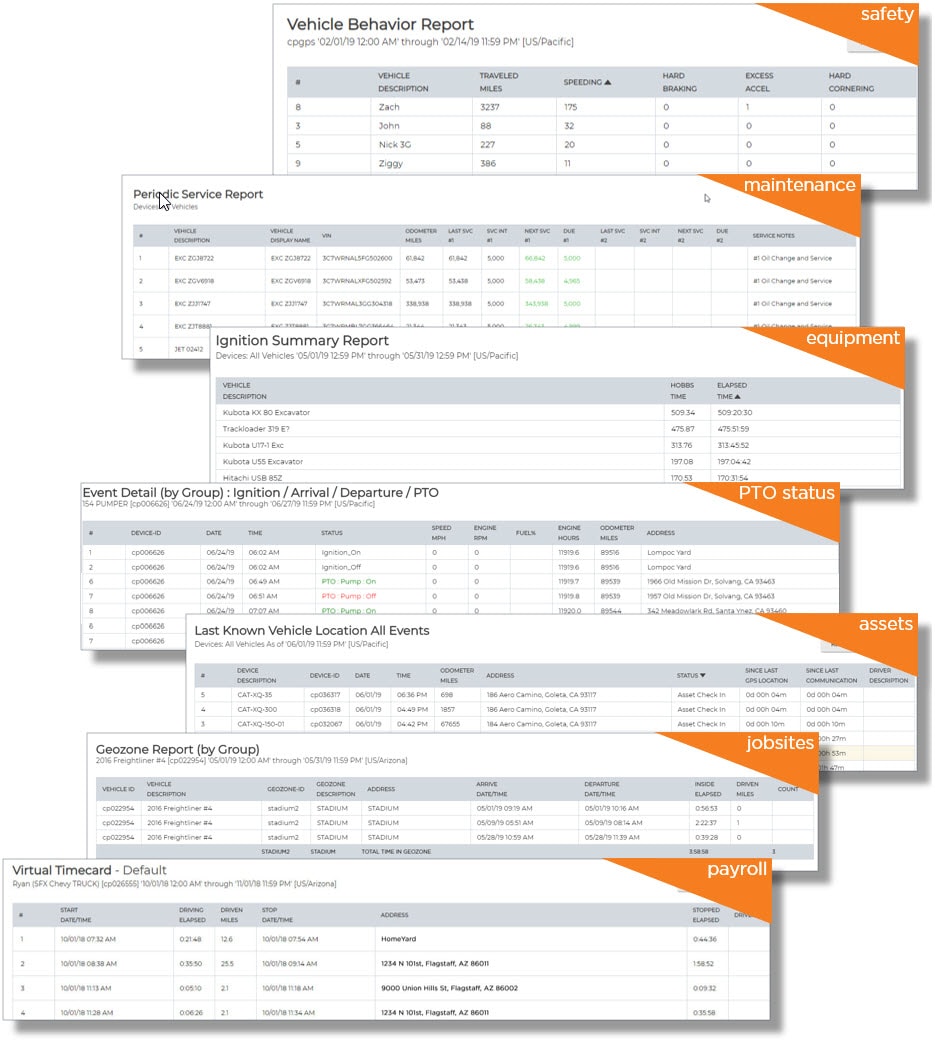 10. Increase Driver Accountability
When drivers know they are being tracked their behavior changes; we call that the "halo effect". Good drivers know they're valued and problem drivers improve quickly once you install GPS vehicle tracking devices.
Documented history prevents discrepancies or misunderstandings
Good drivers know you have their back in a frivolous claim or wrongful complaint
11. Control Maintenance Expenses
Regular maintenance saves you money on costly repairs but also prevents downtime which means loss of revenue. Our GPS vehicle tracking devices also provide maintenance tracking with real-time odometer readings. This helps you save money by staying on top of maintenance, and helping pull vehicles out for service only when they need it.
Real-time odometer tracking gives you mileage reports instantly
Track multiple service events with color-coded status
Track engine hours for equipment maintenance
Automated maintenance reports and alerts can be sent directly to your mechanic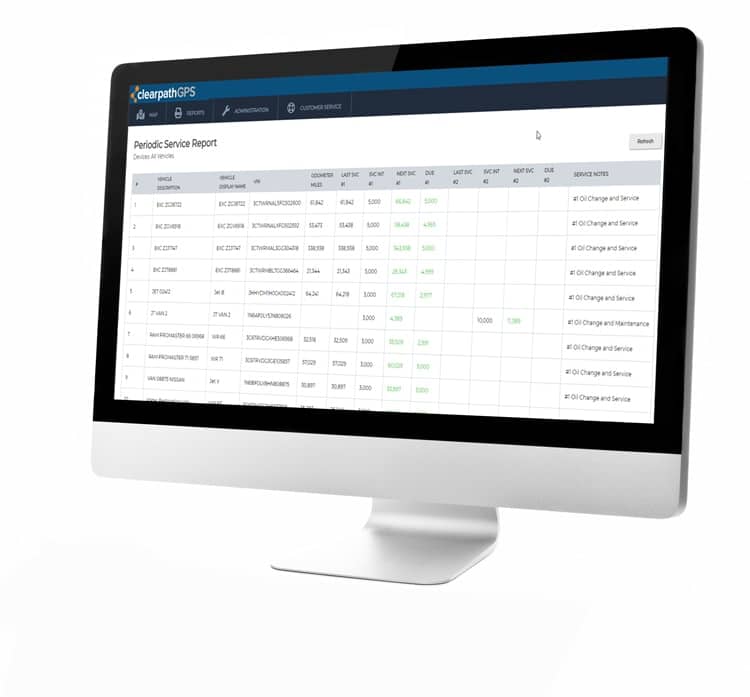 12. Gain Peace of Mind Every Day
What if your business had all the benefits listed above? Would your day be a little easier? Would you feel more in control and relaxed? We asked our customers in a survey how ClearPathGPS made them feel and the two phrases that came up, again and again, were: "in control" and "peace of mind."
---
At ClearPathGPS we help businesses —such as construction, landscaping, plumbers, roofers, and HVAC and more—improve their operations and bottomline. To learn more about how our quick-to-deploy and easy-to-use fleet tracking solutions can help your operations achieve better results, schedule a 1×1 demo today!