Blog Posts
5 Ways Fleet Management Telematics Solutions Can Help Your Service Business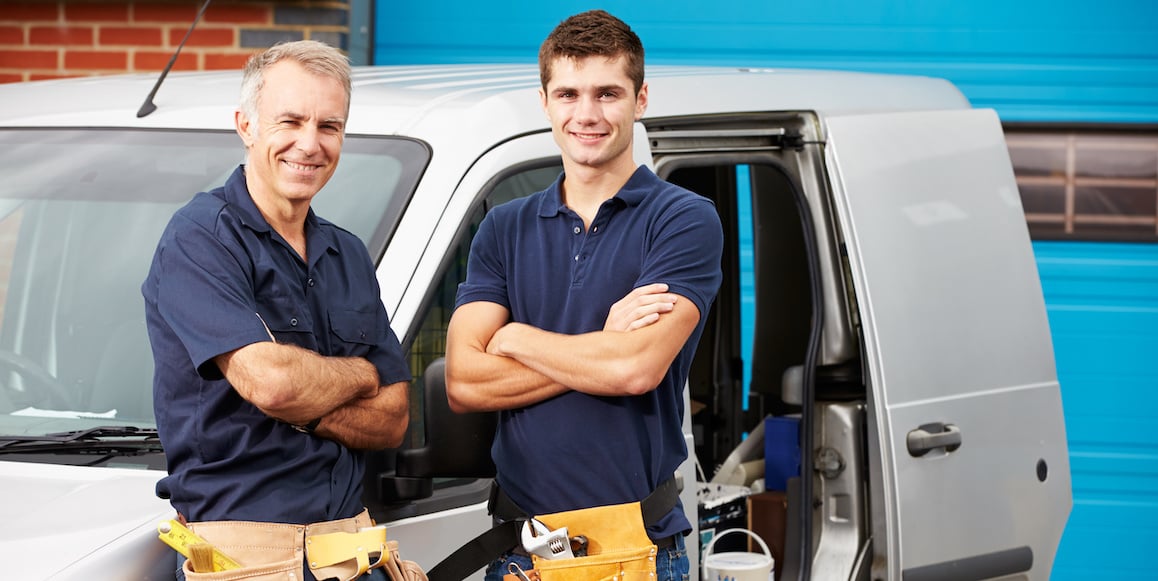 Using fleet telematics as a solution to better your business can feel downright magical the first time you try it. If you're looking for a way to automate frequent management tasks and boost efficiency for your drivers, it may be time to discover what telematics brings to the table.
Let's start with the basics: What is telematics, anyway?
Think of it like this: Telecommunications + informatics = telematics. Or, on an even more basic level, it's getting lots of high-tech, important data from point A to point B in real-time.
With telematics, you get access to a whole new world of information about your commercial fleet. You can keep track of your most valuable assets on a minute-by-minute basis and even glean insights into the way your trucks are used. As a result, you and your drivers will be empowered to increase efficiency, eliminate unhelpful behaviors, and even get time back in your day to take on more gigs.
Your drivers will be safer. Your trucks will be in better shape. And your bottom line will be looking better than ever. Today, let's take a look at the way fleet management telematics solutions can transform the way your service business operates.
The Dramatic Ways Fleet Management Telematics Solutions Improve Efficiency
With detailed truck tracking data at your fingertips, there is no end to the ways creative business owners can improve their businesses. Here are our top five:
1. Telematics helps you improve customer service.
With more data about the way you run your fleet, you can provide better services for your clients and your community. An intuitive telematics system allows your team to provide automated notifications to customers when they're en route to a job, for example, allowing for less waiting and more streamlined on-site work visits.
2. Telematics grants you lower operating costs.
Detailed vehicle metrics distilled into easy-to-pull reports make a lot of routine costs easier to analyze. As a result, you can identify "leaks" in your business and take action to improve the way your team tackles their jobs. For example:
You can see the status of each vehicle in your fleet and automatically schedule needed maintenance.
You can even schedule preventative maintenance for your vehicles based on mileage and projected use, which gives you better ROI for each truck in your fleet.
You can check on your team's driving behavior and use that information to introduce safety and efficiency initiatives as needed.
You can reduce fuel costs because of these improved driving behaviors.
You can identify and put an end to practices such as time card padding and unauthorized vehicle use.
3. Telematics helps you boost job efficiency.
Telematics gives you unparalleled insights into the way your business operates, including the literal routes your drivers take while going about their workdays. With telematics, you can recommend more efficient routes, which not only saves time and fuel but could also even allow you to fit more gigs into each day without overworking your employees.
4. Telematics leads to a lower workload for managers.
Automating oversight and data collection makes the lives of managers much easier, leaving them more bandwidth to improve the lives of their direct reports. Your managers will also be able to spend more time figuring out ways to boost customer success. As a result, everyone will be happier.
5. Telematics boosts overall company growth.
Because you'll be able to take on more jobs, increase the quality of customer service, and boost the bandwidth of your employees, you'll have the reputation and resources required for optimal company growth! With all the money you'll save from catching these "leaks," you'll be able to invest the savings elsewhere to further grow and develop your business.
How to Determine Whether a Fleet Management Telematics Solution Benefits Your Business
We could talk all day about the benefits telematics can bring to your business, but while we may be the experts on fleet management solutions, we're not experts on your unique business's needs—you are. We're here to give you the information you need to determine whether telematics would be a good fit for your fleet.
As you're making that decision, consider the following:
What types of real-time information about your fleet's performance would be most helpful to you?
What information would empower your team to complete their jobs more efficiently?
What type of user interface would be most intuitive and accessible for you?
What type of ongoing support will you need to get the most out of your fleet telematics experience?
Remember to do your due diligence (read customer reviews!) to find a fairly priced, focused-on-client-success fleet telematics partner, and don't be afraid to ask lots of questions about contracts, pricing, and onboarding during your first conversations with potential fleet management partners. You need to make sure that this is an investment that will work hard for you and your team.
Talk to ClearPathGPS to Discover the Right Fleet Management Telematics Solution for Your Business
Leveling up your fleet management solutions with the power of telematics can help you unlock previously unheard-of benefits for your fleet.
At ClearPathGPS, we're proud of the GPS, AI, and telematics solutions that fuel our fleet management systems—but we're even prouder of the community of forward-thinking businesses we serve. That's why we're committed to going the extra mile for our customers to help ensure everyone we work with gets the absolute most out of their new fleet management telematics solutions.
Interested in learning more? Our team is here to help. Request a demo today to learn more about your options!